5-year-old hailed as a hero after calling 911 to help rescue his grandfather in wheelchair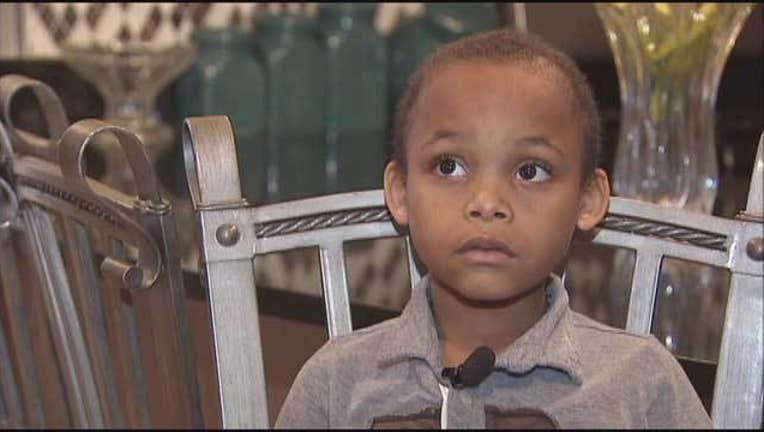 article
A fast-thinking 5-year-old helped rescue his grandfather who is confined to a wheelchair.
The wheelchair became stuck in the mud and the boy's grandfather was only in his pajamas in near-freezing temperatures when it happened.
Children are taught as soon as they are old enough to understand that you call 911 in an emergency. For little A.J. Miranda, he did just that -- and didn't stop there. He knew his grandfather was in trouble, so he jumped into action.
Daniel Lindsey is a young grandfather at just 54 years old. But a car accident left this Marine a quadriplegic.
Every afternoon, Lindsey meets his older grandson at the school bus stop to see him home in their remote St. Mary's County community along the Wicomico River called Bushwood.
A.J. tags along with his grandfather, but on Monday afternoon, something went wrong.
"We traveled down the hill, but there was so much wind and rain as we were coming up the hill, the chair got stuck in the mud," said Lindsey.
"I needed help to push papa up the mud," A.J. told us.
It wouldn't budge and he was only wearing his pajamas in freezing temperatures.
A.J. raced back to the house. Lindsey thought he was retrieving a phone so he could call for help.
"But instead, he called 911," said Lindsey. "But I ended up outside for about 45 minutes in the cold and it was getting to me pretty good.
"He ran and got a hat for me to put on and wrapped me up with a blanket."
Not only did police arrive, but A.J.'s parents did too. They managed to pull Lindsey's wheelchair out of the mud and back into the house.
A.J.'s grandfather couldn't be more proud of him and his fast thinking.
"We tried to push him, but his chair was too heavy," said A.J.
"I had taught him how to dial 911 when we saw an episode once where the children in school were doing it and he said he wanted to know how to dial," A.J.'s grandfather said.
Lindsey said his accident was a result of a motor vehicle wreck while he was a Marine reservist. He was also an 8-year veteran D.C. firefighter.
These days, he is spending lots of time with his grandchildren.