$6K reward offered to find person who threw 2 dogs from vehicle in Santa Cruz Co.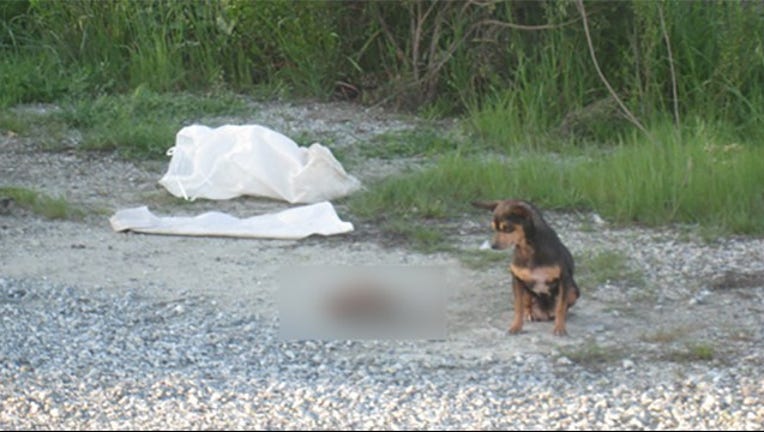 article
SANTA CRUZ COUNTY, Calif. (BCN) - A $6,000 reward is being offered for information leading to the arrest of the person who threw two dogs in sand bags from a vehicle near the dump in unincorporated Watsonville last week, officials said Friday.
Pet Food Express has offered a $5,000 reward for information leading to the arrest of the responsible party, who could face two felony counts of animal cruelty and two misdemeanor counts of willingly abandoning an animal.
A private party has also offered an additional $1,000 reward.
Santa Cruz County Animal Control officers responded to a report of an abandoned dog and puppy on Minto Road in Watsonville on Feb. 20 at about 5 p.m.
Officers found that the puppy had died of head trauma after being thrown from the vehicle.
Its mother, a 6-year-old female miniature pinscher/chihuahua mix named Beverly, had chewed her way through the bag and remained next to the body, according to Officer Todd Stosuy.
Although Beverly was afraid of the officers, she refused to leave her puppy's side.
After she was placed into the animal control vehicle, she started crying and scratching at the door, but calmed down when officers put her dead puppy beside her, Stosuy said.
The mother was allowed to be present during the necropsy and would periodically walk over to lick the puppy and then go back to the veterinarian, Stosuy said.
Beverly chewed the puppy's tongue off while trying to revive it, according to the veterinarian.
She's has since been taken in by the Center for Animal Protection and Education, where JP Novic said she will be available for adoption after addressing some medical issues.
"She needs a little time to get her groove back," Novic said.
Once Beverly is ready for adoption, interested parties can fill out an application online at www.capeanimals.org.
The Santa Cruz County Animal Shelter is asking for help from the public in finding the person or people responsible.
Anyone with information about the case is encouraged to call (831) 454-7303.
The Santa Cruz County Sheriff's Office and District Attorney's Office are also assisting in the investigation.