'A very violent night' Barricaded gunman surrenders after shooting 2 state troopers in Detroit
DETROIT (FOX 2) - UPDATE: The sergeant involved in the shooting has been treated and released from the hospital according to MSP. The trooper involved is scheduled for surgery Saturday and will remain hospitalized, said MSP.
"We want to thank Sinai Grace Hospital for taking care of both troopers," said MSP. "We also want to thank everyone who called, tweeted and texted overnight. We really appreciate your support."
Law enforcement finally got their man who surrendered after a tense Friday night barricade on Detroit's west side.
There was an exchange of gunfire between him and police, injuring two Michigan State Troopers. The armed suspect was also wounded in the exchange of gunfire.  
"A very violent night. A very difficult situation" said Detroit Police Chief James White.
One of the law enforcement personnel was shot in the arm. The other shot in the leg.  One of them is a sergeant who joined MSP in 2014. The Trooper who got shot joined in 2017.
The Chief says one of them got hit as many as three times.
"Both (troopers) are in a lot of pain as you can imagine," White said. "One of them has an incredible sense of humor, so he made a joke for me to mention to his colonel that he won't be able to make the meeting tomorrow. So I was very happy to do that because it could be a lot worse. And just to see them both upright and talking but in a whole lot of pain and headed to surgery. It's just not something you want to see."
Chief White says it began with troopers assisting Detroit police officers on the execution of a warrant when the suspect became agitated and fired.  The injured Troopers are members of MSP's Emergency Support Team trained for dangerous assignments just like this one.
"He is in fact wounded. We are investigating that, it appears that in the exchange of gunfire earlier he was struck."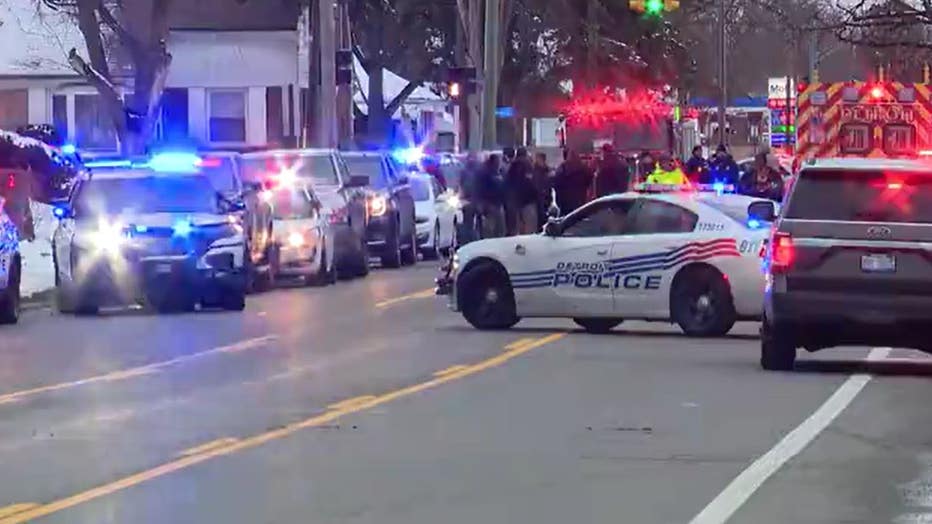 Neighbors, including Democrat State Representative Stephanie Young described the terror.
"I live right in the neighborhood," she said. "I live right around the corner and folks know me walking the dog. And then my phone started like, "Stephanie, what's happening?' I have neighbors that are hiding in their basements because they're hearing gunshots. They're petrified. Absolutely petrified."
"I'm very surprised that anyone would dare shoot at a law enforcement officer," said a neighbor Beverly Rowell. "So when you do that, you are kind of probably at your last wit's end or maybe you have mental health issues. Something is wrong to make you do that."
Young says incidents like this one highlight the importance of gun reform efforts currently being worked on in Lansing.
"We are currently debating gun legislation and gun violence prevention legislation in Lansing," she said. "And this is just one of the reasons why this is such an important topic because clearly there are people who have guns, who just shouldn't."