About 100 set out to retrace Selma-to-Montgomery march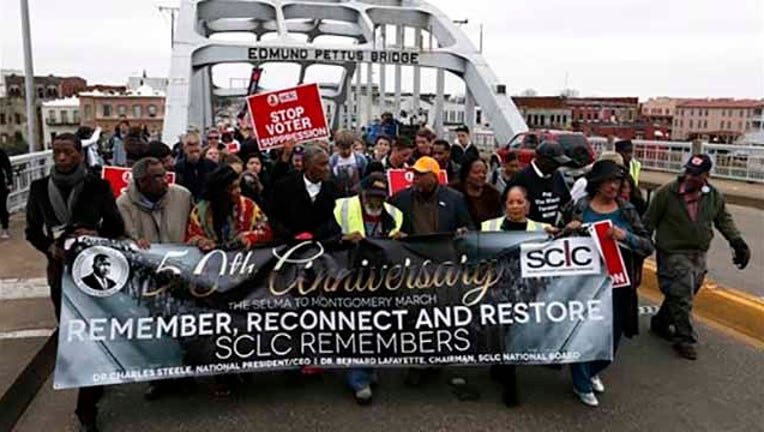 article
SELMA, Ala. (AP) — A group of about 100 people set out Monday to retrace the historic steps taken 50 years ago, when demonstrators pushing for equal voting rights marched from Selma, Alabama, to the state Capitol in Montgomery.
Back then, it was their third attempt to cross the Edmund Pettus Bridge in Selma. During their first try, they were beaten by state and local police on March 7, 1965, in what would become known as "Bloody Sunday." On the second attempt, the Rev. Martin Luther King Jr. turned the march around on the bridge. The third time, the demonstrators made the 54-mile trek Montgomery, stopping each day after about 10 miles.
Here are some stories from the current march:
THEN AND NOW
Tall and lean, John Rankin, 68, wearing a reflective vest and an "I love Jesus" button, walked past the burned out shells of homes that once served the now-closed Craig Air Force base on the outskirts of Selma.
The homes were turned into a low-rent housing development, but many are uninhabitable after being burned, vandalized or looted. The region remains swathed in poverty, he said, noting that the lock manufacturer where he worked closed more than a decade ago.
"We have a long way to go. People need good jobs," Rankin said.
Rankin, who has made the Selma-to-Montgomery walk six times, was just a teen when his head was cracked by a club during Bloody Sunday.
"We were just expecting to go to jail we weren't expecting to get beat up," Rankin said.
Fifty years later, there is an African-American president and Jim Crow laws long eradicated, but in some ways Selma is "not that much" different.
The schools are segregated again, he said, as white families pay for private school and the public schools are almost entirely black students or other minorities.
"The same is that there are no jobs," Rankin said.
A NEW MOVEMENT
Bernard Lafayette, 74, came to Selma in 1962 as an organizer with the Student Nonviolent Coordinating Committee. He said he volunteered to work on voter registration in the city, considered one of the most resistant to voting rights and integration.
On Monday, along the Highway 80 route, he pulled out his smartphone from his jacket pocket, showing a black and white photo of him along the same stretch of highway during the 1965 march.
"I was on the front lines telling people to slow down so people in the back could catch up," Lafayette said.
Breathing a bit hard as he walked, Lafayette smiled at the children, some as young as 11, walking more briskly up ahead.
"Look at those young people up there. They are middle school, high school. We were the young people in our day. Now we see ourselves," Lafayette said.
Behind him, young marchers sang a song with lyrics about Ferguson, Missouri, and Eric Garner — who died after being placed in a choke hold by a police officer in New York. "I can hear my neighbor calling, 'I can't breathe," they sang.
"That's a new song. That's how you can tell you've got a movement, when you've got new songs," Lafayette said.