Activists announce intent to recall Oakland mayor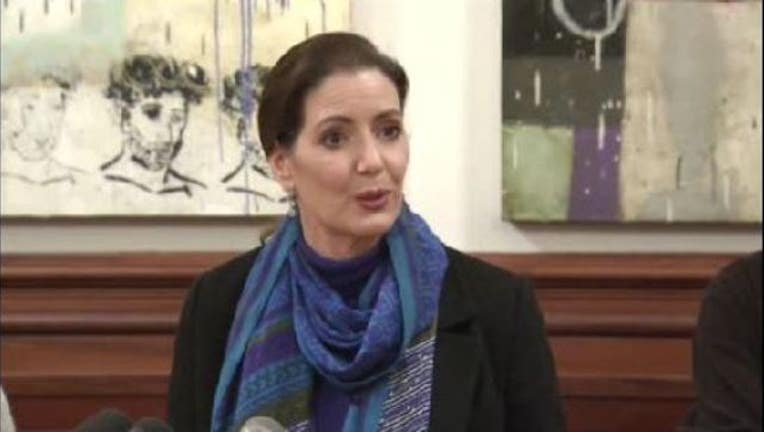 article
OAKLAND, Calif. - Citing a litany of grievances, from displacement of residents to violent crime and an ongoing sexual exploitation scandal in the Oakland Police Department, a group of activists announced their intention today to
circulate a petition to recall Mayor Libby Schaaf.
Leigh Davenport-deBoer of the Anti-Police Terror Project stepped into the city clerk's office in Oakland City Hall this afternoon amid a crowd of fellow activists and reporters to begin the process to recall Schaaf.
The filing only begins the process toward a potential recall election. To put it on the ballot, the group will need to collect more than 20,000 signatures -- 10 percent of the Oakland electorate.
Cat Brooks, another petition organizer, said she couldn't say whether they will be successful in gathering the necessary signatures.
"The level of discontent is high. The people in the hills are happy, the developers are happy," but the poor and minority populations of the city "are sick and tired of being sick and tired," Brooks said.
Schaaf, speaking to reporters today at an unrelated announcement of new youth assistance programs, said she respects the democratic process and the right for her constituents to question her effectiveness.
"I welcome the opportunity to have my record examined and what I've accomplished in Oakland in the past year and a half," Schaaf said.
Among the many reasons the group gave for wanting to recall Schaaf are what they called a poor response to displacement, violent crime and ongoing scandals in the Police Department.
They cited an investigation underway by the mayor's office to find information leaks about internal affairs investigations to reporters, including leaks that revealed an expansive scandal into whether police officers sexually exploited a teen girl.
They also said that Schaaf mismanaged the departure of police Chief Sean Whent, which she said was unrelated to the widening investigation despite news reports to the contrary, leading to the appointment and departure of two successors in a week.
Davenport-deBoer said she suspects the exploitation scandal "is the tip of the iceberg that we know about at the Oakland Police Department."
The same group of activists has previously called for Oakland police to be de-funded in the wake of the scandals, but Schaaf said today she thinks their views are a minority in the city.
"I think the vast majority of citizens of Oakland do not want their mayor to defund the Police Department," Schaaf said.
"We have been very transparent and aggressive about holding wrongdoers accountable that do not deserve to serve in that department.
But that handful of people should not overshadow the fact that this city is making progress in instituting progressive reforms as well as getting safer," she said.