After 67 years La Victoria Bakery shuts down in Mission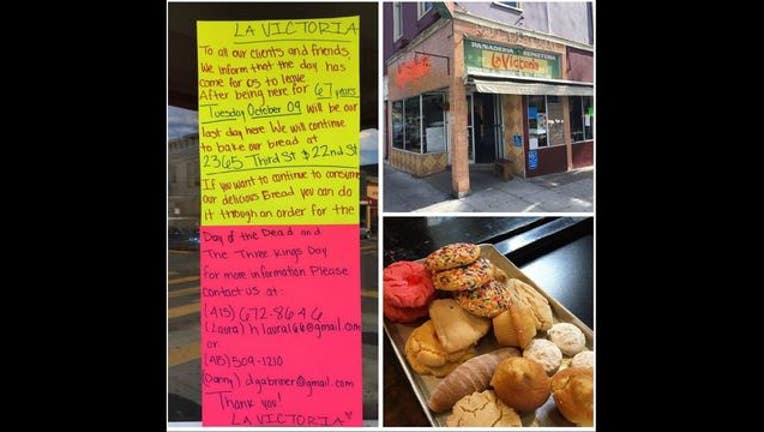 SAN FRANCISCO (KTVU) - A popular Mission District bakery that's been a staple in the area for decades, is closing its doors. 
La Victoria Bakery posted a sign on it's door Tuesday, announcing its last day.
The bakery had been open on 24th Street for 67 years. 
According to the San Francisco Chronicle, La Victoria Bakery was one of the first Mexican-owned eateries in the Mission. 
Although many businesses in the area have blamed gentrification for shutting down - it appears there was more at play at La Victoria Bakery. According to reports, a family dispute ultimately led to the closure. 
"This place has served the community for many, many years and everybody knows about La Victoria Bakery and people are really going to miss it," said Jose Najera, an area resident. 
A handwritten sign on the door states, "To all our clients and friends, we inform that the day has come for us to leave after being here for 67 years. Tuesday, October 9 will be our last day here. We will continue to bake our bread at 2365 3rd Street and 22nd Street. If you want to continue to consume our delicious bread you can do it through an order for the Day of the Dead and the Three Kings Day."
The name of the new owner who purchased the building and the business has not yet been disclosed. So it's not clear whether the location will remain a bakery.