Airlines warn passengers of fake social media account scams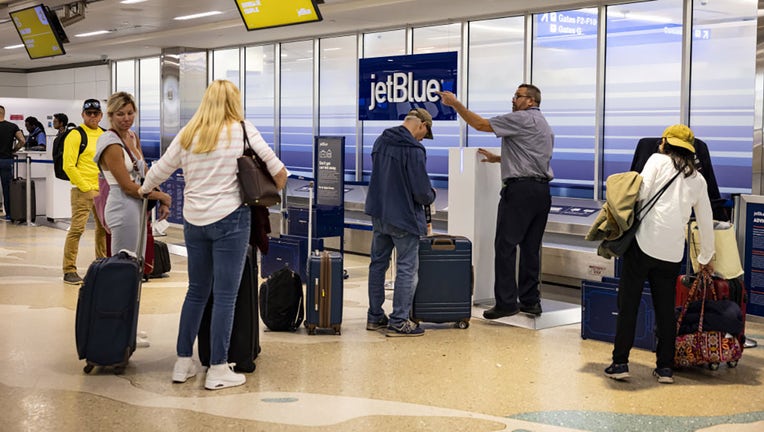 article
Customers reaching out to major U.S. airlines on social media could be targeted by scammers. 
JetBlue and United Airlines told FOX Business that they have seen fake accounts falsely representing the airlines reach out to customers on social media platforms like Facebook, Instagram and X.
"Along with the rest of the industry, we have seen several fake social media accounts falsely representing themselves as JetBlue to deceive and defraud customers," a spokesperson for JetBlue told FOX Business.
2023 HOLIDAY TRAVEL SEASON WILL BE 'BUSIEST EVER,' TSA ANTICIPATES
Travelers have increasingly relied on social media platforms to contact airlines regarding flight issues so they can avoid waiting on hold for a customer service agent or in line at an airport. 
The warnings come just as the Transportation Security Administration (TSA) warned that this will be its busiest holiday travel season ever. 
The agency anticipates screening 30 million airline passengers during the 12-day travel period for Thanksgiving alone. With the influx of passengers, there is a huge likelihood that travel issues will occur, making passengers a prime target for scammers. 
JetBlue said it's working with a cyber fraud prevention business partner, its legal counsel and customer service leadership to identify the fake accounts and have them removed. 
DELTA CEO ADDRESSES UNITED'S BOARDING PROCESS CHANGE: 'JUST BOARDING PEOPLE' IS FASTEST
The airline also said it is still monitoring and engaging with customers on social media platforms like Facebook, X or Instagram who are looking for support. 
However, the company warned that new accounts still pop up, so customers need to ensure they are interacting with only verified accounts and that they aren't sending any personal information. 
GET FOX BUSINESS ON THE GO BY CLICKING HERE
Similarly, United told FOX Business that although its team watches out for fraudulent outreach to customers, it is encouraging customers to "always verify any account they share information with." 
The carrier is also asking customers to "report fraudulent interactions to the social media platform where it happened." 
Delta Air Lines deferred comment to X. However, the airline has a list of all of its official accounts online to help users better identify what the verified Delta accounts are.  
Southwest recommends that its passengers send the airline a direct or private message on Facebook or X.
"Messaging us privately is the safest and most secure way to know you're talking to Southwest and avoid someone else jumping into the conversation," a Southwest spokesperson told FOX Business.