Al-Qaida captures major airport, oil terminal in south Yemen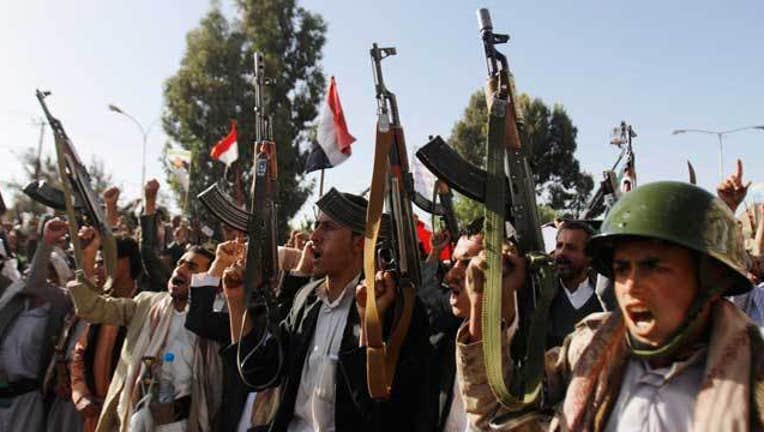 article
SANAA, Yemen (AP) — Al-Qaida seized control of a major airport, a sea port and an oil terminal in southern Yemen on Thursday, consolidating its hold on the country's largest province amid wider chaos pitting Shiite rebels against forces loyal to the exiled president and a Saudi-led air campaign.
Military officials and residents said al-Qaida fighters clashed briefly with members of one of Yemen's largest brigades outside Mukalla, a city the militants overran earlier this month and where they freed prison inmates. The militants then seized control of the Riyan airport and moved to secure their hold on the city's main sea port, which is also an oil terminal.
The security officials, speaking from Sanaa on condition of anonymity because they were not authorized to brief the press, said the leaders of the brigade in charge of protecting the entire area fled.
The latest advance marks a major gain for al-Qaida in the Arabian Peninsula, as the Yemeni affiliate is known, which has been linked to several failed attacks on the U.S. and is widely seen as the global network's most dangerous franchise. The group claimed responsibility for the attack on a French satirical magazine earlier this year.
The group has exploited the chaos in Yemen, where Shiite rebels, along with allied military units loyal to former President Ali Abdullah Saleh, captured the capital in September and have been advancing despite a three-week Saudi-led air campaign.
The rebels are staunch opponents of al-Qaida but are currently locked in fierce battles with forces loyal to Yemen's internationally recognized President Abed Rabbo Mansour Hadi, who fled to Saudi Arabia last month.
The southeastern city of Mukalla is the capital of Yemen's largest province, Hadramawt, where al-Qaida has long maintained a presence despite U.S. drone strikes and Yemeni counterterrorism operations.
Nasser Baqazouz, an activist in the city, said the troops guarding the airport put up little resistance.
"They are consolidating their hold of the city and will paralyze the whole coast of Hadramawt," he said.
A politician in the city, Ali al-Kathiri, said al-Qaida and local tribal leaders had been negotiating with the brigade commanders to ensure a peaceful handover. But some fighters, suspected of being loyal to Saleh, clashed with the militants.
A smaller air defense brigade handed over its camp to al-Qaida, apparently to avoid clashes, al-Kathiri said.
A Saudi-led coalition has been striking the Houthis and their allies from the air since March 26, but has carried out no attacks on Mukalla or other al-Qaida-controlled areas.
Yemen's exiled Vice President Khaled Bahah said the militants in Mukalla are "sons" of the province who have become extremists, adding that he hopes they don't turn it into an "Islamic province." In other parts of Yemen, local militias have been the main forces fighting against the rebels' advances.
Bahah, speaking from Riyadh, also called on the Houthis and pro-Saleh military units to end their offensive on the southern port city of Aden, saying that ground fighting must halt ahead of any peace initiatives.
He said the rebels and troops should adhere to the U.N. Security Council resolution passed earlier this week that calls on Yemen's rivals to end the violence and return to U.N.-led peace talks. Bahah also called on all military units to stop fighting for Saleh and return to the fold of the legitimate government.
The U.N. resolution makes no mention of an end to the airstrikes, now in their fourth week.
"We consider Aden to be the key to peace, the key to the solution," Bahah said. "We will not talk about any initiatives until we see the war machine has stopped in Yemen, and in Aden in particular."
Hadi had set up a temporary capital in Aden, Yemen's largest city, before fleeing to Saudi Arabia last month.
Bahah was speaking for the first time since Hadi appointed him vice president on Sunday. He said Hadi will return to Aden when the security and political situation improves. For now, he said a small government will operate out of Riyadh, focusing on organizing and coordinating humanitarian efforts.
The Houthis swept down from their northern strongholds and seized the capital, Sanaa, in September. Iran supports the Shiite rebels, but both Tehran and the rebels deny it has armed them.
Ground fighting has been fiercest in Aden, where rebels and pro-Saleh military units are trying to take control of the city.
Humanitarian groups have struggled to meet the needs of a population that was already struggling with food security, water scarcity and fuel shortages.
The U.N. Office of the High Commissioner for Human Rights said that at least 364 civilians are reported to have been killed since the start of the airstrikes on March 26, including at least 84 children and 25 women. This is in addition to hundreds of fighters killed.
On Thursday, Human Rights Watch said at least 31 civilians were killed on March 31, during repeated coalition airstrikes on a dairy factory located near military bases operated by the Houthis and their allies.
Joe Stork, deputy Middle East and North Africa director at Human Rights Watch, said the attack may have violated the laws of war, and called for countries involved to investigate and take appropriate action.
"Repeated airstrikes on a dairy factory located near military bases shows cruel disregard for civilians by both sides to Yemen's armed conflict," he said.
Bahah said the coalition and its allies have tried to avoid killing civilians.