Alaska's Shishaldin Volcano explosion sends ash and steam 40,000 feet into the air
Shishaldin Volcano in Alaska is erupting lava from the summit and sending ash plumes into the sky, according to the Alaska Volcano Observatory. 
Volcanic and seismic activity has been increasing at the volcano near the center of Unimak Island in the eastern Aleutian Islands.
Early Friday morning, officials said, several explosions erupted from the volcano, sending steam and ash into the air.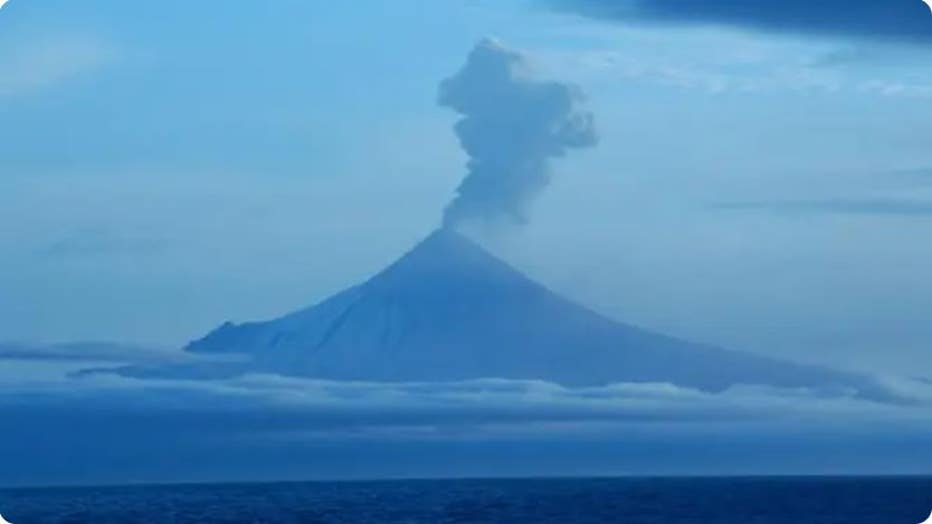 A steam and ash explosion from the Shishaldin Volcano in Alaska on July 14, 2023. (Image: Alaska Volcano Observatory) (FOX Weather)
The explosive activity was also seen from space by NOAA's GOES-16 satellite.
According to the Alaska Volcano Observatory, a "significant explosion" occurred at 1:09 a.m. AKDT, producing an ash cloud soaring up to 40,000 feet above sea level. A second small explosion happened after 7 a.m. reaching about 15,000 feet.
After the explosions, the National Weather Service issued Inflight Weather Advisories for Significant Meteorological hazards, or SIGMET, for the potential drifting ash cloud.  
According to the AVO, eruptions from Shishaldin have produced minor and significant ash clouds in the past, and eruptions can occur with little warning.
Volcanic activity started ramping up earlier this week when the alert level was upgraded to an advisory and level yellow aviation color after "strongly elevated surface temperatures" were detected by a NASA satellite. On Thursday, the alert level was upgraded from advisory to watch, and the aviation color code was upgraded from yellow to orange. According to the U.S. Geological Survey, an orange color code is issued when a volcano is exhibiting heightened or escalating unrest with increased potential of an eruption or an eruption is underway with no volcanic ash emissions. 
According to the Alaska Volcano Observatory (AVO), a flight by the volcano on Wednesday confirmed that lava was erupting from the summit of Shishaldin Volcano and was contained to the summit area.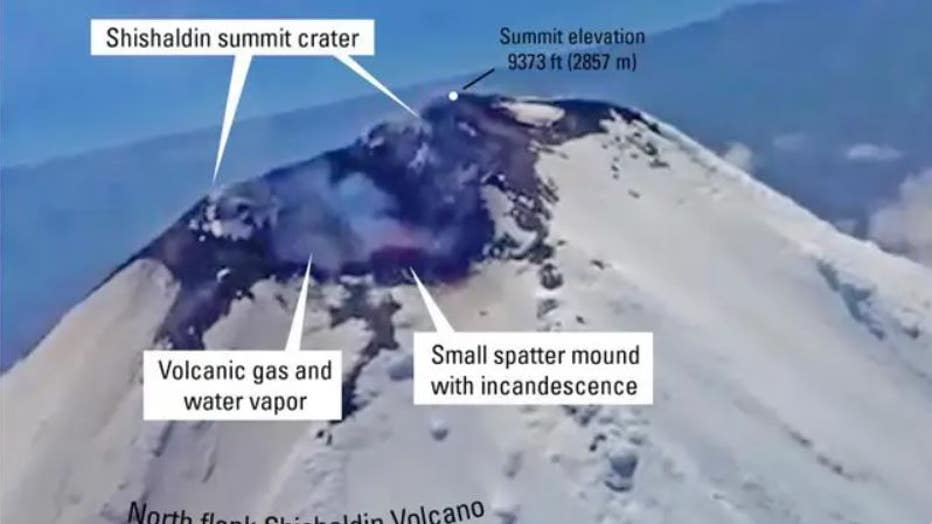 An annotated still from a video captured by Ian Erickson of the U.S. Coast Guard of eruptive activity at Shishaldin Volcano on July 12, 2023. Weak steam and gas emissions are observed emanating from a new scoria cone that is now growing within the su
The annotated photo above shows volcanic gases and water vapor steaming out from the 9,373-foot-tall summit.
MYSTERIOUS 'NOODLY LINE' IN OCEAN FLOOR LEADS TO IMPORTANT DISCOVERY OFF ALASKAN COAST
NASA satellites picked up volcanic gases throughout Thursday and continue to observe strongly elevated surface temperatures. Seismic activity also remains elevated.
The AVO is using geophysical networks, satellite data, regional infrasound and lightning data to monitor the volcano.
Shishaldin is one of the most active volcanoes that are part of the Aleutian Island arc, with 26 confirmed eruptions since 1824.
Shishaldin was elevated to yellow in July 2019. During that period, the volcano went on to erupt and produced lava flows, pyroclastic flows and mudflows.
The volcano was downgraded to green status in June 2020.