Almond farmers unfairly roasted during the drought?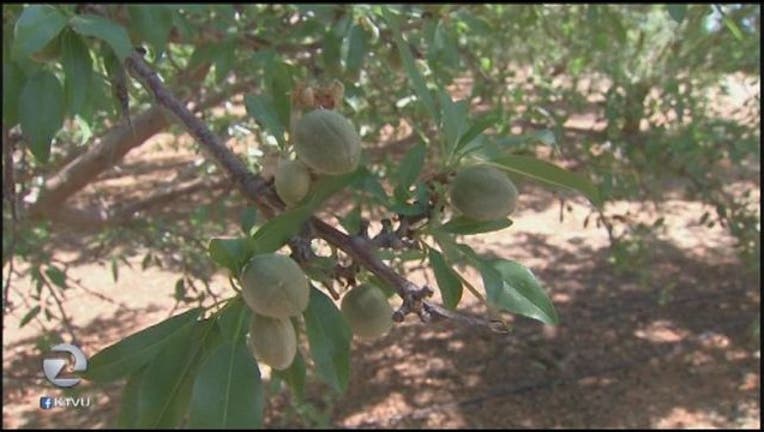 article
FRESNO COUNTY, Calif. (KTVU) - It takes a gallon of water to grow a single almond. But almond farmers say that widely publicized fact is not the whole story and they're the target of scorn from some who say the crop uses too much water in the middle of California's record drought.
California almond orchards now cover a million acres of Central Valley farm land. California supplies all of the United States' and much of the world's almonds.
"We're now the largest acreage crop in California so we're very visible and we've been very successful," said Bob Curtis with the Almond Board of California.
Almonds are a $6.5 billion business for California.
Joe Del Bosque has been a farmer for more than 30 years, growing asparagus, tomatoes, melons, and almonds. He says almonds have increased in value so much that it's his number one crop now.
"They all take a lot of water. That's the nature of the beast," Bosque said. "There's no way around it."
But Del Bosque says an almond is more than a nut. The hull is also used as a high protein feed for dairy cattle.
Californians are facing mandatory water restrictions of 25 and 35 percent. But Del Bosque says that's nothing new to farmers. He says this year his entire water supply has been cut off from the central valley project.
"It's unfortunate that people have to cut back 25 percent. I feel for them. But we have been cutting back for 25 years. And we're cut back 100 percent this year," he said. "We're struggling, you know, we're struggling."
Del Boque says he is buying water from other desperate farmers who may be growing crops that aren't faring well in the market. Instead, they opt to make money by selling other farmers their water.
The Almond Board of California says water use for growing almonds is actually down 33 percent over the last two decades, even as the number of orchards has exploded.
There's 1,600 miles of drip irrigation on Del Boque's farm to control water flow. He also paid extra to line the nearby irrigation canals with plastic sheeting to prevent seepage.
"It goes all the way across under the canal and it's been here since, close to 20 years," said Del Bosque. "It saves us over a thousand acre feet a year." That's the equivalent of 325 million gallons.
Del Bosque says ten years ago he paid about $80 for one acre foot of water. But today water prices are closer to $1,400 per acre foot or higher.
It's too much for Del Bosque to justify this year's asparagus crop. About a third of his 2,000 acre farm is dead.
Water cutbacks have also forced some farmers to reduce worker hours. The Almond Board says almond growers support the same number of workers in the Central Valley as General Motors has in all of North America.
"Our small communities in the valley like Firebaugh and Mendota, San Joaquin, are going to dry up. It's going to be devastating to those communities."
"I see the end of the road next year. If we get no water next year there's no way I can keep this alive," said Del Bosque. "I'd be done."