Alum Rock School District students and staff walkout to protest board's 'ongoing abuses'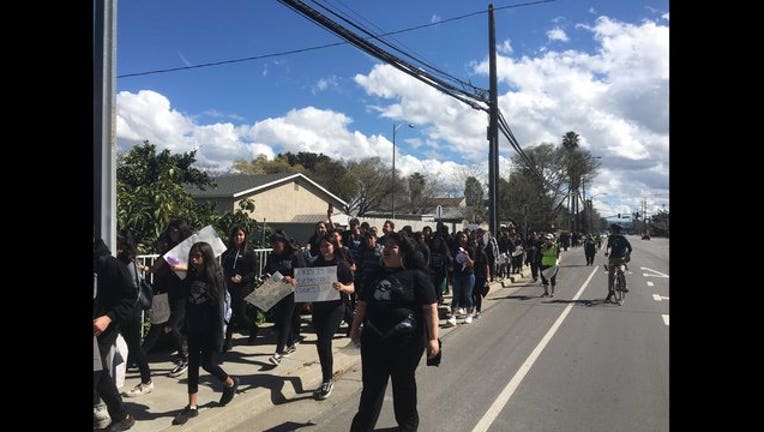 article
SAN JOSE, Calif. (BCN) - SAN JOSE (BCN) An estimated 400 students and staff walked out from Alum Rock School District schools in San Jose on Thursday to "shine light on the ongoing and unscrupulous abuses that the ARUSD board members have carried out for many years," according to the nonprofit SOMOS Mayfair.
Community members are alleging ARUSD robbed students of resources, supported corporate interests over families, created an environment of fear, intimidation and division and suppressed the community's voice to make unilateral decisions that benefit just a few, the nonprofit organization 
stated in a release.
According to SOMOS Mayfair, many parents supported the walkout as a result of last week's special board meeting where community members felt they "witnessed a fundamental breakdown of democratic norms and were exposed to complete incompetence of the board majority."
Those who walked out stated three demands at the rally: that the Santa Clara County Office of Education practice maximum enforcement of fiscal oversight by stopping any fiscal decisions by the ARUSD board, that the focus of decision-making transfers back to students in order for them to be "moral and just," and that the school district board take direct action to support the demands.
"Parents will continue to expose the board majority whose legacy is standing on the backs of our students for political and financial gain," Cesar Chavez School parent Olivia Ortiz said in the statement. "We will not support a board aligned with corrupt corporate interest instead of serving Alum Rock families and children."
SOMOS Mayfair laid out a timeline of actions, beginning in November of 2016, that the ARUSD Board took that made parents weary of where their allegiance lay.
The most recent action listed, which took place in February, alleges that when Superintendent Hilaria Bauer requested a public evaluation of her performance the board called a special session to say that it was already conducted and denied her request.
"This is the kind of representation and leadership that this board demonstrates week after week, but time is up to step up or step out," Executive Director of SOMOS Mayfair and ARUSD parent Camille 
Llanes-Fontanilla said in the release.