Angerer anchors German World Cup team facing challenges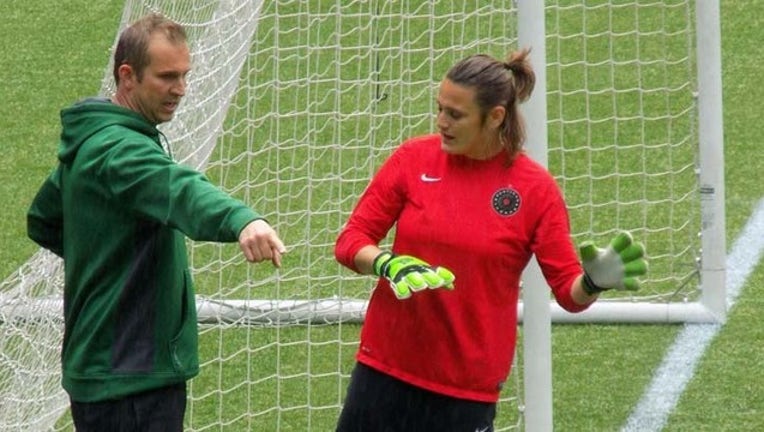 article
Goalkeeper Nadine Angerer anchors a German team that is facing challenges and changes.
Ranked No. 1 in the world, the team got stung when Nadine Kessler, the reigning FIFA World Player of the Year, suddenly said she needed knee surgery in March. Then beloved coach Silvia Neidsaid she would step down next year after 10 years with the team.
And Angerer herself recently announced on her national team's website that she plans to walk away from the game, too, topping off a career that includes her own world player of the year honor.
But first she's got another World Cup to win.
"I always want to win," she said with a smile.
Angerer begins her quest for another title when Germany opens play in the Women's World Cup on Sunday in Ottawa, Ontario. The tournament will be the culmination of a journey that began with Angerer riding the bench for 10 years behind goalkeeper Silke Rottenberg, waiting for her chance.
She didn't play in a game during that time, watching as Germany won the 2003 World Cup and three European championships.
When Rottenberg tore an ACL, Angerer was named the team's starting goalkeeper for the 2007 World Cup in China.
"Before the tournament I said to the media, 'I want to play. I'm good enough to play.' Then Silke got injured, my coach said, 'OK, you're going to play, but now you have to show that you earned the right to play.' I was like, 'oh my gosh, now I have pressure,'" Angerer said with a laugh.
She did not concede a single goal during the tournament, setting a World Cup record for most minutes played (540) without being scored on.
"I always wanted to play and now I had to show it. But I think the pressure made me good. I trained so hard, I never trained that hard before. And I was mentally so focused. I was dead after every game, mentally dead. It was such a hard tournament. But it worked," she said.
Probably the most memorable moment came in the final against Brazil. She stopped a penalty kick from five-time FIFA Player of the Year Marta for a 2-0 German victory. It was the nation's second — and last — World Cup title.
A year later, Angerer helped the German team win the bronze medal in the 2008 Beijing Olympics. She was also in goal for European titles in 2009 and 2013. For the latter title, she saved two penalty kicks in Germany's 1-0 victory over Norway. After the feat she became the first goalkeeper — male or female — to win FIFA's highest individual award.
Last year, she was signed by the Portland Thorns of the National Women's Soccer League, earning a whole new cadre of fans stateside.
"A lot of times you have the world's best players come in and they don't really want to get on board, but she's embraced the entire city, she's embraced the club, she's embraced the entire culture. She's been great on the field and in the locker room: She's a leader," Thorns coach Paul Riley said. "She's in early and she stays late. She still believes she can get better and give more, and that's what makes her the player she is."
At 36, Angerer surprised many recently when she announced via the German national team website that she would retire from international play following the World Cup. She will honor her contract with the Thorns through the rest of the season.
Neid called Angerer an extraordinary player and an even better person.
"She was and is a person I trust," Neid said. "I am sorry that she will retire after the World Cup, but I understand her decision. She is extremely important for the team — a leader and a great captain who understands how to integrate younger players in her own special way."
Angerer will have added responsibility this summer in Canada. In addition to the absence of Keller, the German team also lost midfielder Luisa Wessing, who broke her led during the Algarve Cup in Portugal earlier this year.
"We are used to it, to be honest. Before the European 2013, I think half the team was injured. Six key players were injured. So this time it's only two," Angerer said. "But we have a bunch of players who can compensate, that's the good thing. We have so many talented players, so many young players. So we'll have a strong team."