Animal rights groups rally in support of San Francisco ban on fur sales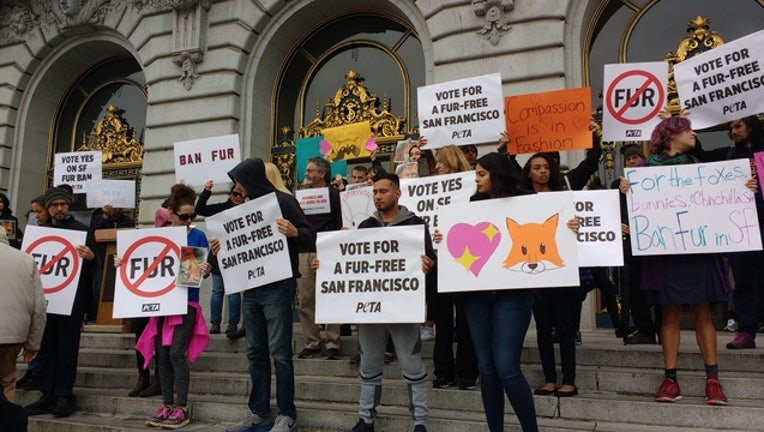 article
SAN FRANCISCO (BCN) Animal rights activists rallied today at San Francisco City Hall 
in support of a proposed ban on the sale of fur clothing and accessories.
Supervisor Katy Tang said her legislation was inspired by similar bans passed in Berkeley and West Hollywood. San Francisco would be the largest city in the United States to adopt such legislation if it is approved.
Tang said fur farms often keep animals in cramped, poor conditions and use practices that include gassing, electrocuting and poisoning to obtain the furs. In addition, she argued that it contributes to water and air pollution.
"There are other ways to profit and it shouldn't be off the backs, literally, of animals," Tang said today at the rally. "I want to send a strong statement that we find it unacceptable to be selling fur or 
manufacturing fur here in San Francisco."
Tang said San Francisco has "very few" businesses selling new fur apparel.
However for those who do, the legislation could have a significant impact.
Skip Pas, general manager of West Coast Leather, said his store primarily sells leather goods but also carries fur clothing and accessories and items with fur trim.
"If there is a ban on every type of fur then we would lose 10 percent of our business," Pas said.
Tang today amended the legislation during a Public Safety Committee hearing, setting the effective date for Jan. 1, 2019 and clarifying that it would allow the sale of secondhand fur items and manufacturing involving secondhand furs.
It is expected to return to the committee for another hearing and Tang said she expects it to reach the full Board of Supervisors for a vote by next month.