A's honor the late Glenn Burke on Pride Night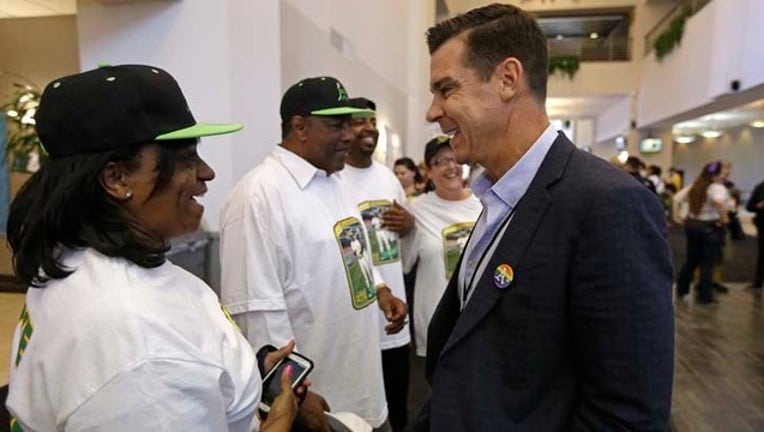 article
OAKLAND, Calif. (AP) — Glenn Burke's sister had a tough time even coming to the Oakland Coliseum for Athletics Pride Night. Her brother's death remains painful 20 years later, though Carol Williams knows how much it would have meant to Burke to be honored in his former ballpark as baseball's first openly gay player.
"I'm sad. I miss him every day of my life. I loved him so much," Williams said. "He did so much for the family. We were so close. I just know he's smiling down, and he's saying, 'Oh my God, they're honoring me today?' He used to give me bus fare to go to school. I said, 'Why do I have to go to school?' He said, 'Because you need an education.'"
Billy Bean, Major League Baseball's openly gay ambassador for inclusion and a former major leaguer, greeted members of the Burke family before Wednesday night's game against the Padres. Burke's brother, Sidney, threw out the ceremonial first pitch to A's reliever Sean Doolittle.
"He would be so thrilled. This would be the bees' knees for him," said another Burke sister, Lutha Davis. "He would be so happy they would do this for him. We're very, very proud of our little brother."
Members of the Burke family stood together for a moment on the diamond where he played. Burke died at age 42 in 1995 of complications from AIDS.
Former A's infielder Shooty Babitt played a season with Burke at Triple-A. He appreciated the franchise's efforts to support an old friend.
"There was not one guy on the team that was more respected or more liked than Glenn Burke," Babitt said. "Not only was he a good person, a great athlete but he was a caring person as well. We were born and raised in the same city (Berkeley), so when you talk about great athletes, Glenn Burke was right at the top."
Eireann Dolan, Doolittle's girlfriend, estimated to have about 875 fans in her group that included LGBT youth. She also had her family members in the stands in support.
"It was wonderful what she did," father Tom Dolan said. "It doesn't surprise me, though."
A check for $23,250 was presented by Bean, Doolittle and Dolan to Our Space, AIDS Project East Bay and Frameline, a distributor of award-winning lesbian and gay films and videos to educational and community groups.
By Wednesday, Dolan had raised $37,370 — far beyond her initial $10,000 goal — on the website www.gofundme.com to raise money for members of Our Space, an LGBT youth center, and others to attend Pride Night. She also made a commitment with Doolittle to match up to $3,000 raised.
"I'm over the moon," Dolan said. "These are people who would not have otherwise been able to go to a baseball game. That's what I love the most. I'm spending the night trying not to cry."
Dolan, raised for part of her life by two moms who coincidentally are A's and Padres fans, also made quite the offer to those fans who didn't want to attend. Sell her the tickets, she would buy as many of them as she could at face value and donate them to Our Space.
"I'm just thrilled to be here and be supportive of her and just remind her of how generous that was," Bean said of Dolan. "For me, knowing what it felt like, even on the field, feeling like I didn't belong. And so I just buried my secret farther and farther, I was afraid to tell my own family. And I chose to leave baseball before I had the talk with my own parents."
Also for Wednesday's sold-out game, 24-year-old transgender opera singer Breanna Sinclaire sang the national anthem. There were special rainbow wristbands and pins made for the evening in support of the LGBT community — and even a rainbow-colored scoreboard for Oakland's lineup.
The 24-year-old Sinclaire has been told she is the first transgender woman to sing the anthem at a U.S. professional sports venue.
"I know there's been drag queens. I'm not a drag queen," said Sinclaire, who has been transitioning for six years. "I think I am probably the first. ... It means a lot. I feel very honored. I used to be homeless in New York City. I think from being homeless to getting my bachelor's degree and my master's degree to this, it's just kind of mesmerizing to me to have such a group of people that support me and love me and want to see me succeed. I'm so thankful for them."