A's Sonny Gray dominates Indians in Oakland's 2-0 win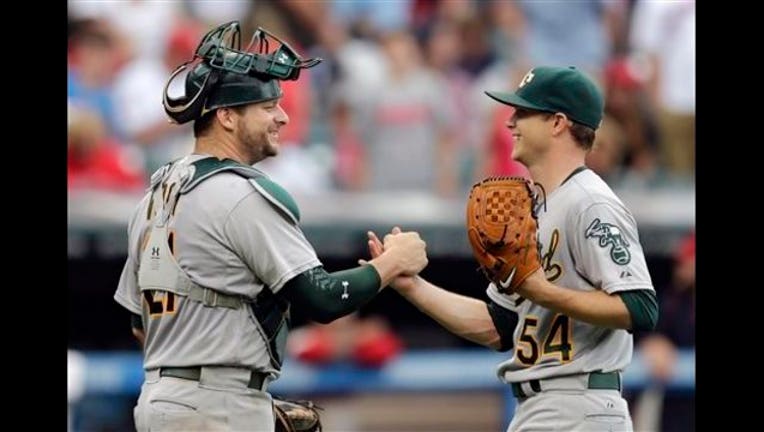 article
CLEVELAND (AP) — With Sonny Gray at the top of his game, the Cleveland Indians were going to have a tough time on Sunday.
Gray pitched a two-hit shutout and allowed only three base runners, leading the Oakland Athletics to a 2-0 victory.
The All-Star lowered his AL-best ERA to 2.04, walked one and struck out six. Only three outs were recorded by outfielders in his third career shutout.
"He had no-hit stuff," Athletics manager Bob Melvin said. "Only one ball was hit hard. That's about as good as it gets."
Catcher Stephen Vogt, Oakland's other All-Star, had the best view of Gray's brilliance.
"He smells blood and he just goes for it," said Vogt, whose two-run homer in the fourth gave Gray the only offense he needed. "That was a lot of fun."
Gray (10-3) retired the first 10 hitters before Francisco Lindor's one-out single in the fourth. The right-hander walked David Murphy to lead off the fifth and retired 11 in a row until Giovanny Urshela's two-out single in the eighth.
"If you're a fan of pitching he is fun to watch," Cleveland manager Terry Francona said. "If you are trying to beat him it's not fun. There's really nothing he doesn't do."
Gray seemed to take his performance in stride as if it was another routine day at the ballpark.
"I felt good," he said. "I was throwing my fastball where I wanted to for the most part and I was able to get some soft contact. That was pretty much what I hoped to do."
Vogt homered to right off Corey Kluber (4-10) after being robbed of a home run in the first by Murphy.
Kluber has already surpassed last season's loss total when he went 18-9 and won the AL Cy Young Award. The Indians are averaging 2.30 runs when Kluber is on the mound.
Gray breezed through the first 3 1-3 innings. Lindor bounced a single up the middle, but Michael Brantley hit into a double play to end the fourth.
Gray, who won't pitch in Tuesday's game because he started Sunday, missed a turn in the rotation last month because of a bout of salmonella. He allowed three runs in seven innings against the Yankees on Tuesday. The right-hander hasn't lost since June 9.
Vogt, the second batter of the game, drove a pitch to deep right but Murphy got back to the wall, timed his jump perfectly and made a leaping catch.
Vogt got even in the fourth inning by driving a 1-0 pitch several rows into the seats for his team-leading 14th homer of the season.
"I definitely caught the second one better," he said. "The first one I kind of got underneath it, but it didn't carry out. Obviously Murphy made a good catch. Fortunately, I was able to get another good pitch to hit and I didn't miss it the second time."
HEAD-TO-HEAD MATCHUP
Gray, an early favorite for this season's Cy Young Award, enjoyed going against Kluber.
"He's a fun pitcher to watch," Gray said. "He has some of the best stuff in all of baseball. He's one of the guys every time he pitches after your own game you come back and watch his highlights."
TRAINER'S ROOM
Athletics: RHP Jesse Hahn (strained forearm) has been shut down for two weeks, but it's unclear when he'll be activated from the 15-day disabled list.
Indians: RHP Josh Tomlin, who had shoulder surgery in March, will make his second rehab start on Wednesday at Class A Mahoning Valley. Tomlin pitched 2 2-3 scoreless innings last Friday at Double-A Akron.
UP NEXT
Athletics: Gray will start the first game after the break Friday against Minnesota at home. He'll throw a bullpen session while he's in Cincinnati for the All-Star Game.
Indians: RHP Trevor Bauer, who is second in the AL in road ERA (1.82), will start the first game after the break in Cincinnati. He will throw a simulated game in Cleveland on Monday to stay in his routine.