Attorney: Robin Williams' wife wants to keep wedding tuxedo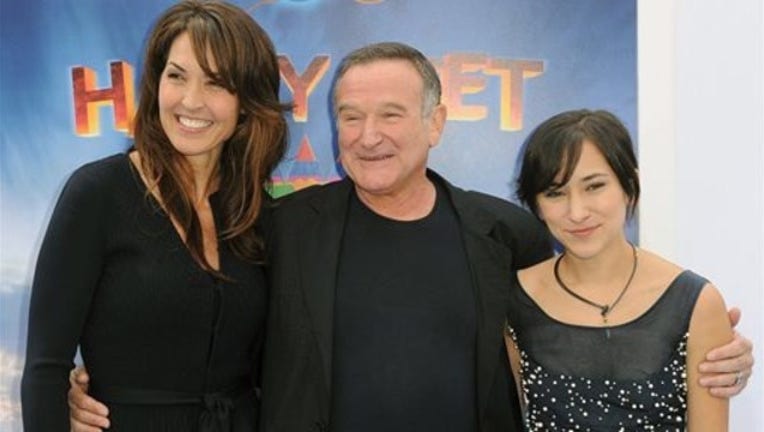 article
San Francisco Superior Court Judge Andrew Cheng told lawyers for both sides during a hearing to meet before April 10 and enlist the help of a mediator if necessary before returning to court.
In papers filed in December, Susan Williams said the contents of the home she shared with Robin Williams should be excluded from the things the actor left his children from previous marriages.
She also claimed some of her husband's personal items were taken without her permission.
Williams' children countered that Susan Williams was "adding insult to a terrible injury" by trying to change the trust agreement and rob them of items that their father clearly intended them to have.
They said the belongings include clothing, watches, photos taken prior to his marriage to Susan Williams, and memorabilia and entertainment awards.
Attorney Jim Wagstaffe told the judge that Susan Williams has agreed with how hundreds of items should be distributed and was trying to amicably resolve problems involving others. He also said she wants their wedding presents.
"I think we can work our way through this," Wagstaffe said.
Attorney Meredith Bushnell, who is representing Robin Williams' children Zachary, Zelda and Cody, said the public dispute has been excruciating for her clients.
"We would like to see this wrapped up as soon as possible, so they can move on with their lives and continue the grieving process," the attorney told Judge Cheng.
Robin Williams died in August at his home in Tiburon in the San Francisco Bay Area. The coroner ruled his death a suicide. The actor's wife has said he struggled with depression, anxiety and a diagnosis of Parkinson's disease.
Susan Williams is also seeking clarity on assets and money that will go into a reserve account that she says Robin Williams intended to help pay for maintenance of their home, Wagstaffe said.
The lawyer added that a judge might have to decide what constitutes memorabilia in the dispute.
Andrew Bassak, an attorney for trustees overseeing the estate, argued that the court does not have jurisdiction over the dispute.
Robin Williams was an intensely private individual who gave the trustees absolute discretion over how his personal property was to be distributed, Bassak said.