Ayesha Curry invites Clemson Tigers to 'real feast' following Trump's fast-food White House meal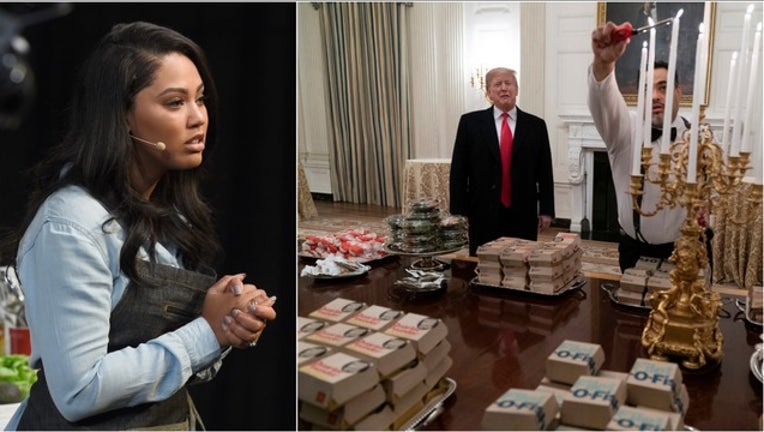 article
(KTVU) - Ayesha Curry, celebrity chef and wife of Warriors star Stephen Curry, thinks the national champion Clemson Tigers football team deserves a "real feast" after being treated to a bevy of fast-food at a White House dinner Monday night. 
"@eatatsmoke will gladly feed the Clemson Tigers any day. A real feast and celebration. No 10 cent dipping sauces on silver platters," Ayesha Curry said, referencing Intertnational Smoke, the restaurant she launched with Chef Michael Mina.
Curry, who's also a bestselling cookbook author, took a swipe at President Donald Trump on Tuesday when she responded to a tweet from a user that criticized the celebratory meal. The user joked that he now understood why Stephen Curry didn't want to go to the White House after winning the championship last year. Curry said in February 2018 that accepting the traditional invitation would be an implied approval of the president's policies. 
Trump, a fast-food lover, said he paid for the meal himself because of the partial government shutdown, which has led to furloughs among federal workers, including the White House. 
"Great being with the National Champion Clemson Tigers last night at the White House. Because of the Shutdown I served them massive amounts of Fast Food (I paid), over 1000 hamburgers [sic] etc. Within one hour, it was all gone. Great guys and big eaters!" he wrote.
Additionally, the owner of Alinea, which is a highly-rated, Michelin-star restaurant in Chicago, invited the team to experience "what an actual celebration dinner should be" in a tweet on Tuesday.