Barnes' shot lifts Warriors to 107-106 win over Suns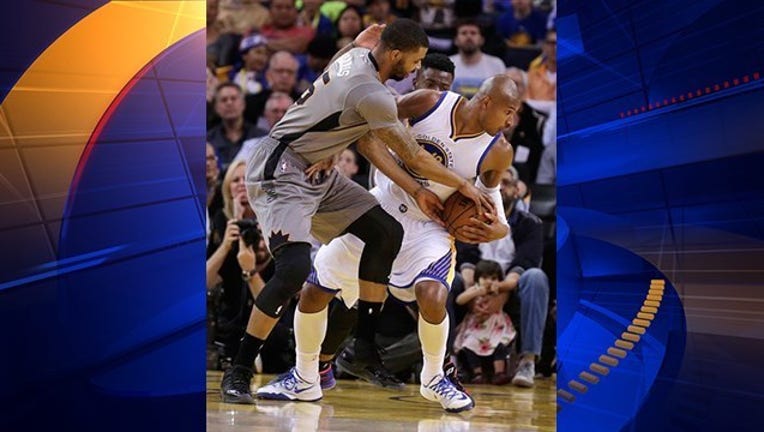 article
OAKLAND, Calif. (AP) — Harrison Barnes hit a running shot in the lane with less than a second remaining, lifting the Golden State Warriors to a wild 107-106 win over the Phoenix Suns on Thursday night.
Barnes' big shot came after Eric Bledsoe broke free for a reverse layup to put Phoenix ahead with 4.5 seconds to play. And Bledsoe's layup followed Stephen Curry's go-ahead 3-pointer that seemingly put the Warriors up for good.
Instead, it took all 48 minutes for the NBA-leading Warriors (62-13) to extend their latest winning streak to 11 games. They fell behind by four in the final minutes and traded scores with the fading Suns (38-38) the rest of the way.
With little left to play for other than pride, the Warriors continued their franchise-record roll toward the playoffs — though it was anything but smooth. Curry carried them back in the final minutes before Barnes' big shot finished Phoenix off.
Curry collected 28 points, eight rebounds and five assists, Klay Thompson scored 16 and Barnes had just four — none bigger than his last.
Barnes caught the ball off an inbounds pass and dribbled toward the basket. With Archie Goodwin guarding him and Bledsoe trying to strip the ball, Barnes rose up and finished in the lane.
Bledsoe had 18 points and 11 assists, Markieff Morris had 17 points and 12 rebounds, and Brandan Wright added 17 points and 12 rebounds for the Suns, who have lost five in a row. And while Phoenix is still mathematically in the race for the Western Conference's final playoff spot, its postseason hopes are all but finished.
The Warriors already have secured the top playoff seed in the West and are closing in on clinching the NBA's best record over East-leading Atlanta. Even with a huge lead in the standings, Kerr said he has no plans to rest his players.
Instead, he will monitor minutes while trying to keep his team sharp. Motivation, he said, has not been a problem.
"They like winning. It's pretty simple," Kerr said before the game.
The Warriors seemed comfortable and in control from start to finish. But they struggled to put Phoenix away, often looking disinterested and out of rhythm.
The Suns continued to apply pressure and made things a little uncomfortable for Kerr, who was called for a technical foul early in the fourth quarter after waving his arms and mouthing at an official.
T.J. Warren's reverse layup started a three-point play that put Phoenix up 89-88 with 5:33 remaining. Curry answered with a 3-pointer, and Tucker followed with another from beyond the arc as the teams traded baskets.
Bledsoe's 3 extended Phoenix's lead to 98-94 with 2:32 left. And after the Suns missed a chance to create more separation, Curry connected on a pull-up 3-pointer.
The teams traded scores again before Warren banked in a turnaround fadeaway to give the Suns a 102-99 lead. Two possessions later, Curry found Thompson in transition for a tying 3-pointer from the top of the arc with 34.7 seconds remaining.
But the drama had just begun. Tucker converted a reverse layup for another go-ahead score for Phoenix before a wild sequence ensued:
Curry missed a shot, Bogut's tip-back rimmed out, Barnes missed a runner and Bogut came up with a rebound and tossed it out to Thompson, who threw the extra pass to a wide-open Curry in the corner. Curry connected to put the Warriors up with 6.8 seconds left, sending the announced sellout crowd of 19,596 into a frenzy and breaking out in a chant of "M-V-P!"
Just a few seconds later, Bledsoe rolled off a high screen to the basket to beat Thompson for a reverse layup with 4.5 seconds to play. But Barnes came through when the Warriors needed him most to end Phoenix's rally.
TIP-INS
Suns: Brandon Knight missed his second straight game with a sprained left ankle. Alex Len sat out after breaking his nose in Phoenix's loss at Portland on Monday. ... The Suns are 8-28 when trailing after three quarters, including 5-18 on the road.
Warriors: Draymond Green sat out for the third straight game to rest his shins. ... Golden State finished 3-1 against Phoenix this season. ... The Warriors are an NBA-best 35-2 at home.