Bay Area fire chief named 2023 fire chief of the year in California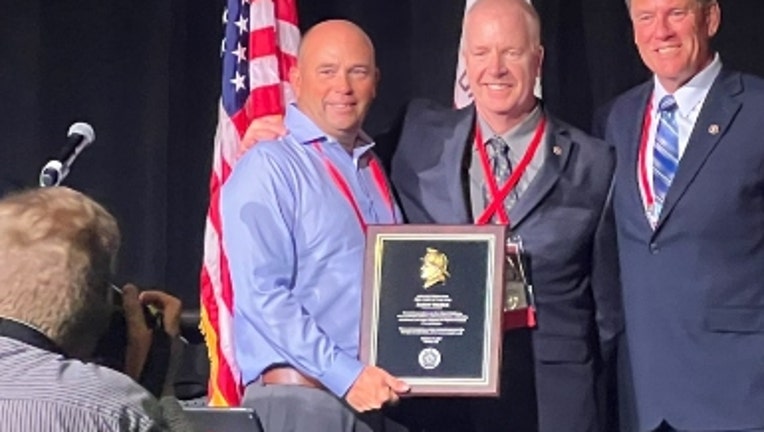 article
NOVATO, Calif. - Marin County's fire chief was named 2023 Fire Chief of the Year by the California Fire Chiefs Association.   
Jason Weber, who's been chief of the Marin County Fire Department since 2012 and a department firefighter since 1995, received the award earlier this week.   
A longtime Novato resident, Weber received the Ronny Jack Coleman Award during the association's annual conference in Ontario, CA.     
Weber's 27 years of experience was cited, as was his "effective leadership, adaptation to changing conditions and environments, collaboration with partnering agencies, the creation and launch of the FIRE Foundry program, and outstanding communication skills," Marin County said, in a statement.   
"I was first introduced to Chief Coleman as a fire explorer over 30 years ago, to be recognized in his name is truly an honor," Weber said. "This recognition is very nice, but I only accept it knowing it's the entire team that is being recognized. We have a Board of Supervisors that prioritizes public safety and supports our mission and 295 men and women who work 24-7 to protect our residents."   
Weber was 36 when he was named as the replacement for retiring Marin County Fire Chief Ken Massucco on Dec. 5, 2012. Weber previously served two years as the department's deputy chief and for many years as a battalion chief, training officer, and paramedic.     
Weber has a bachelor's degree in emergency services from California State University at Long Beach.   
Weber spent 15 years as a board member of the nonprofit California Fire Exploring Association, been a point person for the California Department of Forestry and Fire Protection (CAL FIRE) and served with more than a dozen firefighting and fire training associations.   
In his nomination letter, Marin County Administrator Matthew Hymel mentioned Weber's recent roles in launching the Marin Wildfire Protection Authority, leading the County's COVID-19 response, and creating the FIRE Foundry program that encourages young recruits from traditionally underrepresented backgrounds to get involved in fire protection services.   
"Chief Weber has demonstrated extraordinary and selfless leadership over the past year to make our community safer and healthier," Hymel wrote. "Chief Weber is a leader and collaborator who brings all stakeholders together to make our county a more responsive government. After his nearly 28 years of fire service, I cannot imagine a more deserving individual for this prestigious honor."