Bay Area storm kills at least 5, knocks out power, brings traffic to a stop
People were crushed to death by downed trees, scores of Pacific Gas & Electric customers were without power and major freeways and roads were closed Tuesday as the latest round of strong winds and rain battered California. 
The punishing storm took a toll throughout the Bay Area, causing tragedy and havoc for water-weary residents.
The worst of the weather caused at least five deaths and several injuries. 
According to the California Highway Patrol, one man was in a work van traveling along Alpine Road in San Mateo County about 1:30 p.m. near I-280 when a eucalyptus tree fell onto the van and crushed him.
Another person was killed when a tree fell onto a car in which they were riding on Stanley Dollar Drive in Rossmoor near Walnut Creek, the Contra Costa Fire Protection District officials said. The driver suffered minor injuries, officials said. 
San Francisco also saw downed trees—and wires across the city. Two people were critically wounded after they were struck by a falling tree on Post and Polk streets.
On Wednesday, the San Francisco mayor's office confirmed that two people died in storm-related incidents.
City officials did not provide specific details into the deaths or whether the victims were the two people struck by the falling tree on Post and Polk streets.
"Tragically, two people lost their lives, which is a grave reminder of how serious and dangerous this storm became," said Mayor London Breed.
Also injured during the storm was a San Francisco police sergeant when a tree toppled his city vehicle. 
Across the Bay in Oakland, a man in a tent was crushed to death by a falling tree near Lake Merritt. Authorities believe he was homeless.
Elsewhere, the rain caused other problems.
Flights were grounded at San Francisco International Airport due to the weather. The Federal Aviation Administration has since canceled those ground stops. 
In the Oakland estuary, a section of a dock broke loose and floated away with boats connected to it.
Approximately five boats were attached to the dock as it floated through the waterway. Crews tied the runaway dock to a boat and hauled it to a safe place. 
Evacuations were ordered in Santa Cruz County for people near Foreman Creek. The sheriff's office said a blockage was causing the water level to rise quickly.
At its peak, nearly 200,000 PG&E customers were without power.  
In San Francisco, strong winds likely caused a window to blow out of a high-rise building in the Financial District. According to the San Francisco Fire Department, nobody was injured by the falling glass. 
Fire officials said a tree came down on a car and caught fire. Crews had to pull a person out at Lake Merced and Brotherhood Way. 
Elsewhere in the city, fire officials said to avoid the 3rd Street Bridge in the Mission Bay Area, where an industrial barge became loose and hit the bridge, damaging it. 
Roadways
Trees fell all across the Bay Area causing dangerous travel for many on the roadways. 
In Woodside, Glenwood Avenue between Canada Road and Hillside Drive were closed until further notice because of downed power lines, according to the San Mateo County Sheriff's office. 
Residents in the area were asked shelter in place because of live wires in the area. 
The sheriffs department said they do not know when PG&E will arrive to tend to the downed lines. 
Connector lanes between Interstate-80 and I-780 in Vallejo were closed on Tuesday afternoon after a tractor-trailer jack-knifed in the westbound lanes. Officials did not say when the lanes would reopen. 
In Newark, power lines fell on Highway 84 near Newark and Ardenwood boulevards and brought traffic to a stop, prompting traffic backups. Also, a large eucalyptus tree fell on a pickup truck, pinning the driver's legs. A ram had to be used to stabilize the tree and the steering wheel was cut to extricate the driver and a passenger, Alameda County Fire Department said. 
Multiple trees fell in East Palo Alto and were tangled in power lines. A video sent to KTVU of the tangled lines shows parts of a tree touching a car parked nearby.
An image sent to KTVU showed the aftermath of a tree that fell onto a truck on El Camino Real in Burlingame. 
Another video showed a man who nearly was struck by a downed tree in San Francisco's Presidio. "Stay inside!" he advised.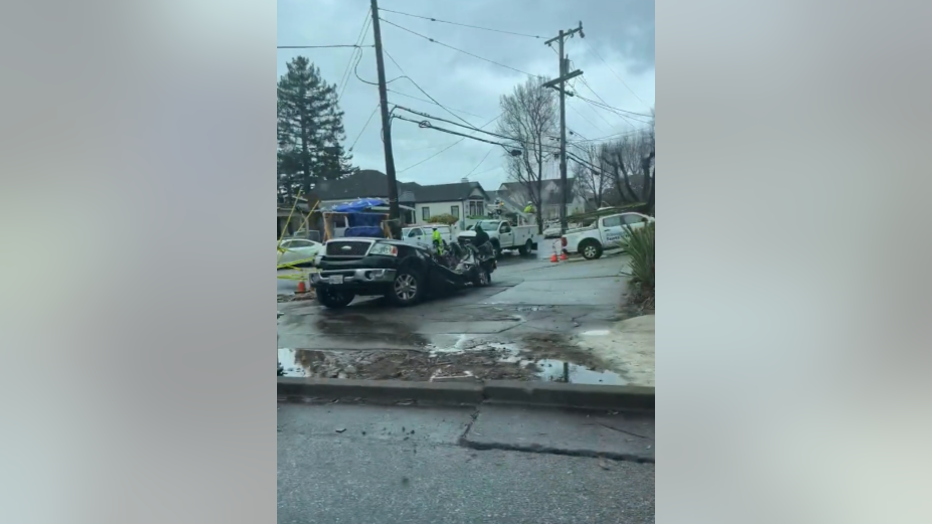 A falling tree smashed a truck in Burlingame on March 21, 2023. 
Power outages
According to PG&E, as of 8:30 p.m. on Wednesday, 35,600 customers are without power. 
PG&E sent the following power outage breakdown to KTVU. 
San Francisco- 3,648
Peninsula- 10,930
North Bay- 422
East Bay- 16,240
South Bay- 4,360
Mass transit
All ferry services were canceled on Tuesday afternoon due to the winds, according to SF Bay Ferry alerts. In a tweet, San Francisco Bay Ferry said ferry service to and from San Francisco's Ferry Building were canceled due to "ocean-like waves." However, service did partially resume later in the evening.
Amtrack and Capitol Corridor experienced massive delays because of a derailment involving a tree.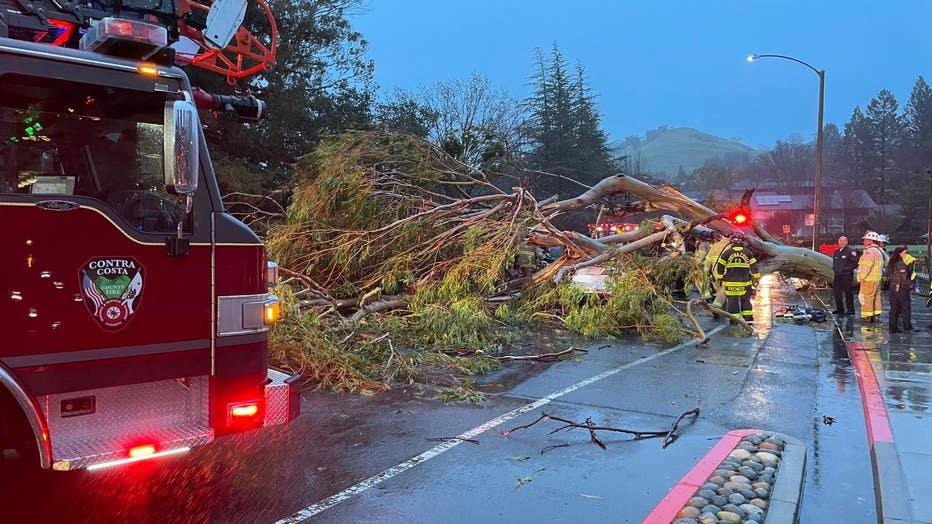 A tree fell on a car, killing the passenger near Walnut Creek in Rossmoor. Tuesday, March 21, 2023. (Photo: Contra Costa County Fire Protection District)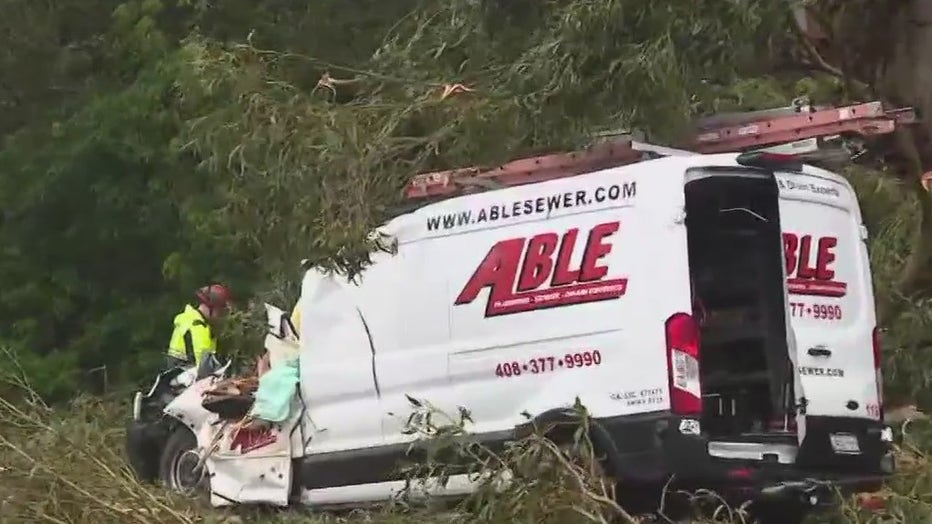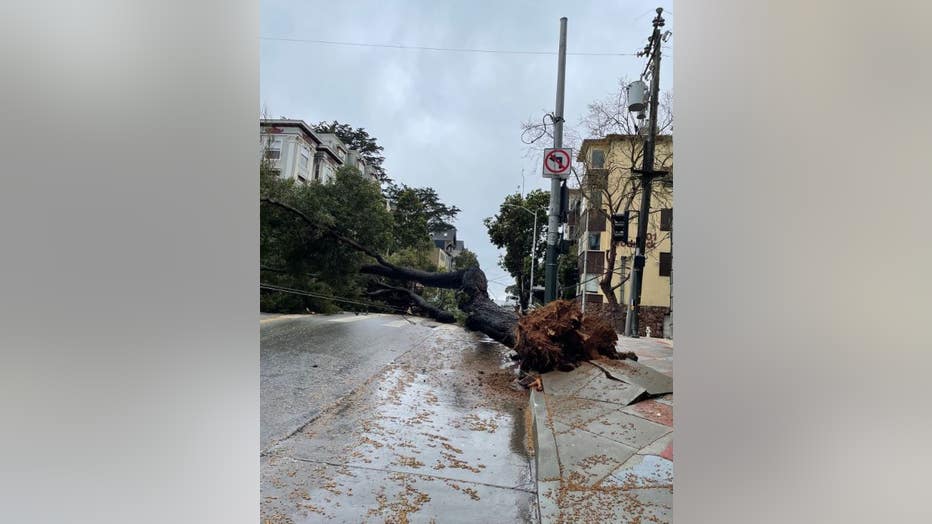 A tree was uprooted at Haight and Broderick streets in San Francisco.