Bay Area transplant recipient celebrates first 'Lungaversary'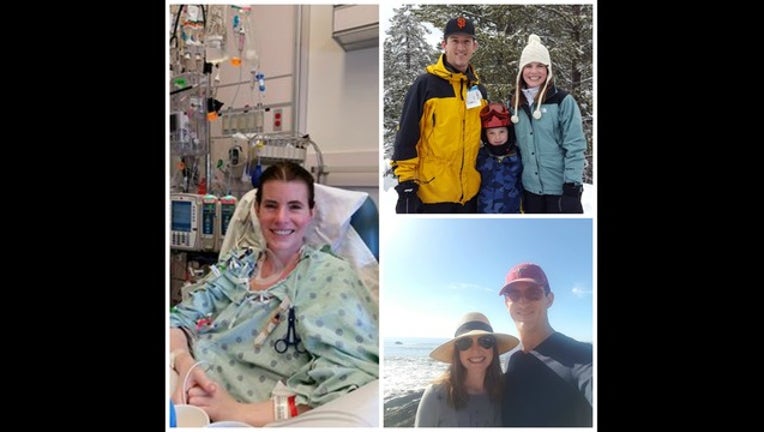 article
MORAGA, Calif. (KTVU) - A Moraga woman, her family and her friends celebrated a huge milestone this week: They marked what they're calling Laura's "Lungaversary."
We first introduced you to Laura Zellmer last year, not long after she became the recipient of a double lung transplant.
On Monday, Zellmer marked one year of life with her new lungs-- one year since she's been able to return to doing the simple, everyday activities many of us take for granted.
In Zellmer's words, it's been a year of regaining her independence. "I can drive, I can cook, I can take a shower, I can walk up a flight of stairs, I can walk anywhere I want to, I can do laundry," she wrote in a Facebook post.
It's also been a year of being active outdoors and running around with her 9-year-old son, Everett, whom she calls her "inspiration for fighting."
For the first time in years, thanks to her new lungs, Zellmer has been able to visit the mountains again. Now, she is not only able to handle the altitude, but she's been participating in all kinds of physical activities and enjoying every single moment.
"I am there skiing, paddle boarding, hiking, watching the sun shimmer on Lake Tahoe, catching snowflakes on my tongue, and watching Everett's utter joy playing in the snow," Zellmer said.
The journey here has been a long one.
When she was one, Zellmer was diagnosed with cystic fibrosis, a progressive, genetic disease that causes chronic lung infections and over time limits the ability to breathe.
Doctors had speculated that she would not survive her early childhood years.
But time and time again, she proved that she would defy the odds against her, and she never stopped fighting.
Before receiving her new lungs, she was put on oxygen therapy so she could receive a continual source of oxygen to help her breathe.
At one point, she also had to have a feeding tube inserted into her stomach to help get enough nutrients and calories into her body.
And she spent a lot of time in and out of hospitals.
When Zellmer finally became a transplant candidate, as is often the case, there were several soaring moments of hope that ended in crushing disappointment.
But ultimately on March 27, 2016 at UCSF Medical Center, she received a new set of lungs that changed everything. 
So one year later, Zellmer had a long list of things to be grateful for: "Being able to truly laugh again... Being able to sing again, to Everett... Watching the sunset over the ocean... Food! It is so nice to enjoy food again, to have cravings and to no longer have a tube in my stomach... Traveling! I was so trapped in my house or the hospital and now I can't wait for all of our exciting upcoming trips!"
The list continues, and it also includes words of gratitude to those who have been by her side and offered her support and reason to fight.
To her husband Kevin, whom she calls her rock, she thanked him for holding her up, especially during the most trying times, and she expressed her excitement for their future.
"You made me laugh, you let me cry in your arms during my breakdowns and you loved me even when there was so little left of the person you fell in love with. So glad we have so many more adventures in this life together!!" Zellmer said.
At the very top of her list, Zellmer offered a special and moving thank you to her donor for "these beautiful, strong lungs" and for giving "me back my life."
She said that since it's been a year, she is now allowed to reach out to her donor's family and will be sending them a letter in which she will try and put into words how grateful she is for this, the "greatest gift" she will ever receive.
Zellmer is planning to celebrate many "Lungaversaries" ahead of her.
And on this first milestone since receiving the opportunity for a new beginning, she took the opportunity to encourage people to become an organ donor. 
Zellmer said, as it did for her, that one act could change the course of another person's life.