Berkeley City Council to consider compromise minimum wage hike Friday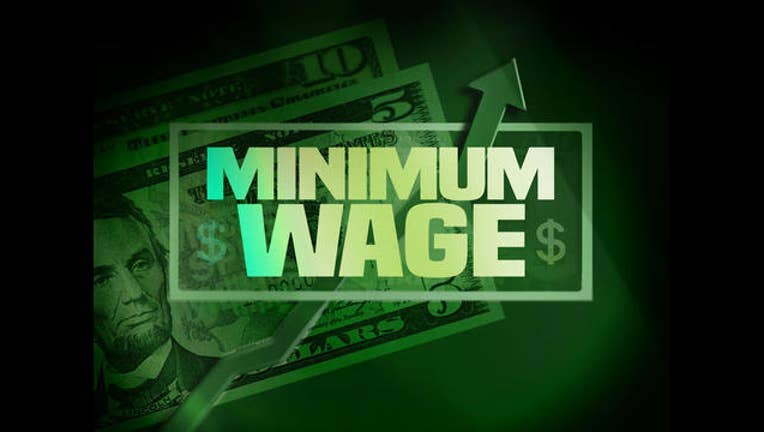 article
BERKELEY, Calif. (BCN) - The Berkeley City Council will vote at a surprise meeting on Friday morning on a new ordinance that would raise the city's minimum wage to $15 in two years.
   
The special meeting during the council's summer recess was only announced this morning. The proposed ordinance, which would raise Berkeley's minimum wage to $15 an hour by 2018, is intended to stave off confusion from dueling measures on the November ballot.
   
According to city documents, the ordinance up for vote Friday is a compromise between proponents of the two measures. If passed, the city would urge voters to reject both measures.
   
Berkeley's minimum wage is set to go to $12.53 on Oct. 1, still below the minimum wage in neighboring cities of Emeryville and Oakland.
   
If the proposed ordinance is passed on Friday, Berkeley's minimum wage would rise to $13.75 on Oct. 1, 2017, and then to $15 on Oct. 1, 2018.
It would go up according to the consumer price index after that.
   
Voters will still be faced with a choice on competing ballot measures to raise the minimum wage this November. If the compromise is passed, the City Council will recommend that voters reject both measures, one previously recommended by the city that wouldn't raise the minimum wage to $15 until 2019 and another that would raise it aggressively to $15 next year.
   
The ballot measures have divided the City Council. Council members Max Anderson, Jesse Arreguin and Kriss Worthington along with labor leaders have supported the more aggressive Measure CC while Mayor Tom Bates and the Berkeley Chamber of Commerce support the competing Measure BB.
   
Aware that Berkeley is falling behind other area cities, the City Council has been considering raising the minimum wage since it passed its last series of hikes in 2014. The council considered an aggressive plan at a meeting last year that would have raised it to $19 in 2020 but after hours of public discussion the meeting ended without an agreement.
   
Each time the council discusses the issue, labor advocates clash with business owners, who claim that sudden, drastic increases in the minimum wage are untenable.
   
Meanwhile, Oakland, Emeryville and San Francisco have passed faster schedules to raise the minimum wage. Oakland's is currently $12.55 and set for an increase based on the consumer price index on Jan. 1, Emeryville's is $13 an hour for businesses with 55 or fewer employees and $14.82 for businesses with more, and San Francisco's is set to rise to $15 in 2018.
   
In March, Gov. Jerry Brown announced a deal that would bring the statewide minimum wage to $15 by 2022.