Berkeley police arrest 17 at clashing political rallies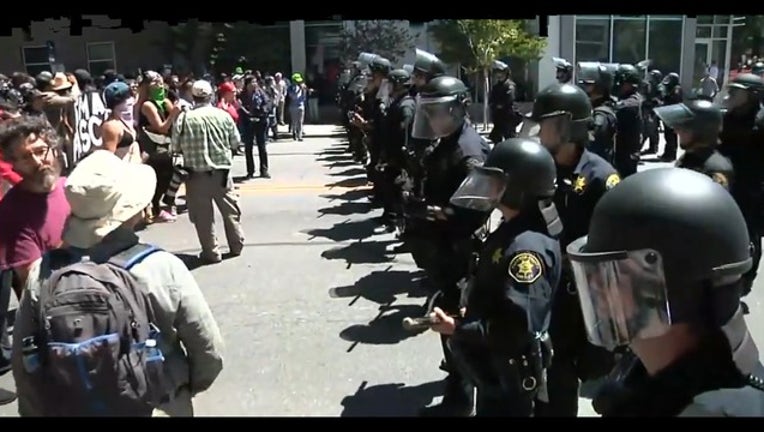 article
BERKELEY, Calif. (KTVU/BCN) - The Berkeley Police Department says it has arrested 17 people and confiscated weapons from a confrontation between alt-right protesters and counter-demonstrators in the city's downtown. 
The "No to Marxism in America 2" rally Sunday afternoon drew a few hundred rival anti-fascist and anti-Marxist protesters, some of whom carried weapons and threw fireworks, police said.
Amber Gwen Cummings organized the rally, which started at Martin Luther King Jr. Civic Center Park at noon. Cummings held a "No to Marxism" rally in the same park in August 2017 in which a man was beaten to the ground, among other violent acts.
As of 2:30 p.m., police had arrested the following people on suspicion of possessing a banned weapon: Jason Wallach, 49, of Oakland; Kate Brenner, 69, of Oakland; Kristin Edith Koster, 50, of Berkeley; Sarena Lynette Perez, 39, of Oakland; David Siegfried Chou, 26, of Santa Cruz; and 
Maria Lewis, 29, of Emeryville. Lewis and Chou are also suspected of working with others to commit a crime.
Additionally, Blake Griffith, 29, of Oakland, was arrested on suspicion of vandalism; Freddy Martinez, 31, of Berkeley, was arrested on suspicion of battery; and Tomas Parker, 22, of Berkeley, was arrested on suspicion of working with others to commit a crime.  The names of the others arrested were not available Sunday night. 
Police on Saturday released a lengthy list of items prohibited at the rally, noting, "These rules are intended to assist those wishing to peaceably express their First Amendment rights."
Sticks, pipes, poles, lengths of lumber or wood, baseball bats, bricks, pepper spray, knives and firearms were some items banned at Civic Center and Ohlone parks.