Berkeley police need help identifying six suspects from weekend Trump protests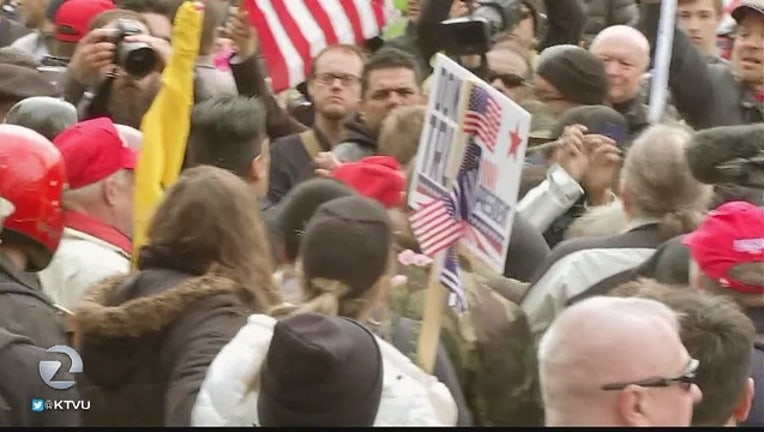 article
BERKELEY (BCN) -- Berkeley police are asking for the public's help in identifying six suspects who assaulted people during scuffles between pro- and anti-President Donald Trump demonstrators over the weekend.
Police have released photos of the additional suspects sought from Saturday's event, where officers arrested 10 people and said seven were injured during a confrontation that started at about noon at Martin Luther King Jr. Civic Center Park.
Five people were arrested on suspicion of battery, four on suspicion of assault with a deadly weapon and one on suspicion of resisting arrest, according to police.
MORE COVERAGE
Police said they had a hard time telling how many people had gathered for the protest because of a farmer's market nearby.
"Fights typically lasted a few seconds and took place in the middle of the crowd, which included a number of observers, peaceful protesters and news media," police said in a statement today. "The ability of individuals to express their First Amendment rights was hindered by these acts of violence."
Berkeley police are asking anyone who was assaulted at the event to fill out a police report to help officers track down the people responsible for the violence.
Police are asking anyone with information about the six suspects to contact Officer J. Friedman at (510) 981-5990, ext. 4202 or jfriedman@cityofberkeley.info.
Police are also asking for people who took photos or videos of the fracas to upload them at http://bit.ly/berkvideo.