Bernie Sanders makes 'SNL' appearance with Larry David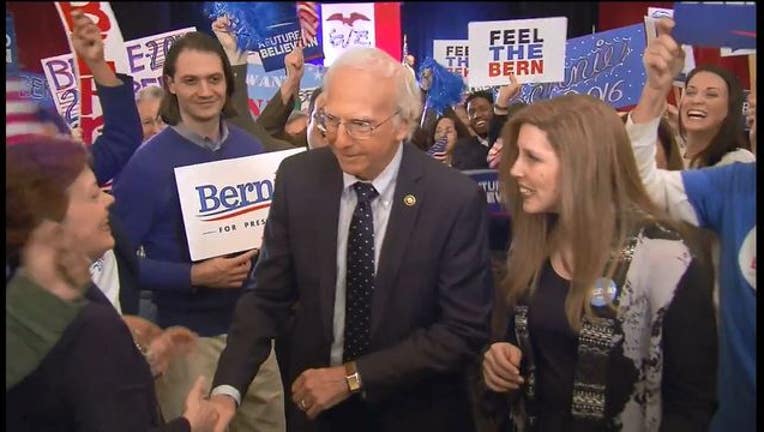 article
NEW YORK (AP) — Democratic presidential candidate Bernie Sanders made a cameo appearance on "Saturday Night Live" three days before the New Hampshire primary, appearing in a skit with host Larry David, the comic who has done a dead-on impersonation of him.
The NBC comedy show resisted the temptation to have the Vermont U.S. senator appear next to David as he was playing him, however. Sanders portrayed a passenger on an endangered ship who argued with David about who should be allowed on a lifeboat.
Sanders is the third presidential candidate to appear on "SNL" this season. Fellow Democrat Hillary Clinton made an appearance last fall, and Republican Donald Trump hosted in November.
In Saturday's skit, David played a ship crew member angry about women and children getting the first seats in lifeboats. Finally, David said he deserved a seat because he was richer than the other passengers.
At that, Sanders appeared, saying he was sick of the top 1 percent getting all of the advantages, echoing his campaign's call for the super-rich not to get so many benefits in society.
"We need to unite and work together if we're all going to get through this," Sanders said.
"Sounds like socialism to me," David said.
"Democratic socialism," Sanders said.
Responded David: "What's the difference?"
"YUGE difference," Sanders replied, imitating how Trump often pronounces "huge" as though it begins with a Y.
Sanders said his name was Bernie Sanderswitzky but he was going to change it when he got to America so it wouldn't sound so Jewish. David suggested it wouldn't make much difference.
Later, Sanders stood beside David as he announced the show's musical guest, the 1975.
David had made two earlier appearances on "SNL" portraying Sanders in Democratic debate skits. He reprised his Sanders impersonation this time in a pre-filmed segment, "Bern Your Enthusiasm," which echoed David's character in the HBO comedy "Curb Your Enthusiasm."
David, playing Sanders, refused to shake a woman's hand at a campaign event because she had just coughed into it, and he denied a woman's request that he help pop her separated shoulder back into place so she could vote for him in the Iowa caucus. The people he slighted were then showed voting for Clinton in a caucus she won in real life by a razor-thin margin.