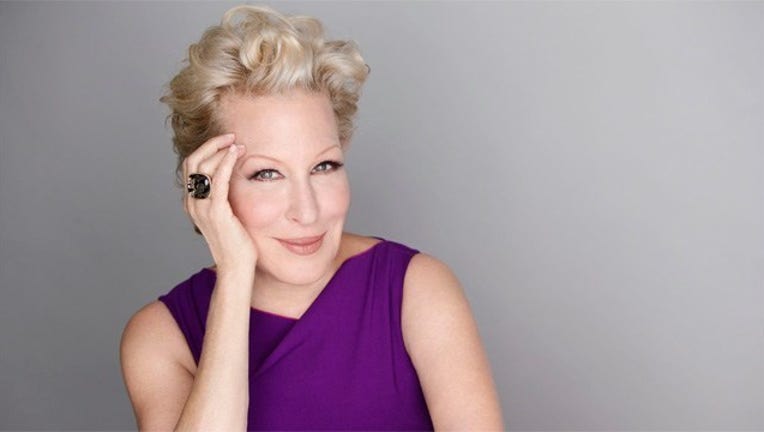 article
Bitten by the acting bug at an early age, Midler was studying drama at the University of Hawaii (she was born and raised in Honolulu) when she got a job as an extra in the 1966 film Hawaii. She took the money she made and moved to New York City, working off-off-Broadway shows until she began singing in the Continental Baths, a gay bathhouse in the Ansonia Hotel, in the summer of 1970. Building her core audience and an important partnership with pianist/songwriter Barry Manilow, the singer developed her high-camp, comedic stage show that featured her telling bawdy jokes and belting out standards with her powerful voice,
Midler scored a record contract with Atlantic (Manilow produced her hit debut, The Divine Miss M, in 1972) and established her reputation as a world-class stage performer with her rousing touring show. Midler became big enough to star in her own network variety special (Ol' Red Hair is Back won an Emmy in 1977). An even bigger breakthrough came with her lead role in the movie The Rose. A thinly veiled retelling of Janis Joplin's tragic story, the movie and soundtrack were massive hits, earning Midler an Oscar nomination for Best Actress and a Golden Globe Award.  
While she would become better known as an actress during the '80s with hit films like Down and Out in Beverly Hills, Ruthless People and the tearjerker Beaches (the soundtrack album featured her biggest single yet,"The Wind Beneath My Wings"), she would still periodically release albums and stage her frequently sold-out blockbuster tours. Since the turn of the century, Midler has re-teamed with Manilow to produced popular tribute albums to Rosemary Clooney and Peggy Lee, staged a two-year run of shows in Las Vegas and returned to Broadway for the first time in over three decades to star in I'll Eat You Last: A Chat with Sue Mengers, a one-woman show about the Hollywood super agent.
Midler's current Divine Intervention Touor comes to San Jose in support of her charming new album It's The Girls! Paying heartfelt tribute to the girl-group pop of the '60s, the album features the singer delivering such classics as the Exciters' "Tell Him" and the Crystals' "Da Doo Ron Ron." Fans can expect a breathless, two hour performance with Midler offering up her hit songs backed by a 12-piece band and plenty of hilarious zingers between tunes.
Bette Midler
Tuesday, May 26, 8 p.m. $42-$257
SAP Center in San Jose