Biden approves California disaster declaration as another atmospheric river storm prepares to pummel state
President Joe Biden approved a disaster declaration on Saturday for California as the state continues to deal with an onslaught of deadly atmospheric river storms that have pummeled the state with heavy rain, flooding and mudslides.
Storm after storm has been slamming into the Golden State since the end of December. And while the torrential rain has helped ease some of the drought conditions, so much rain has fallen that it has led to the flooding of rivers and streams across the state.
The death toll continues to climb, and at least 18 people have been killed due to the storms.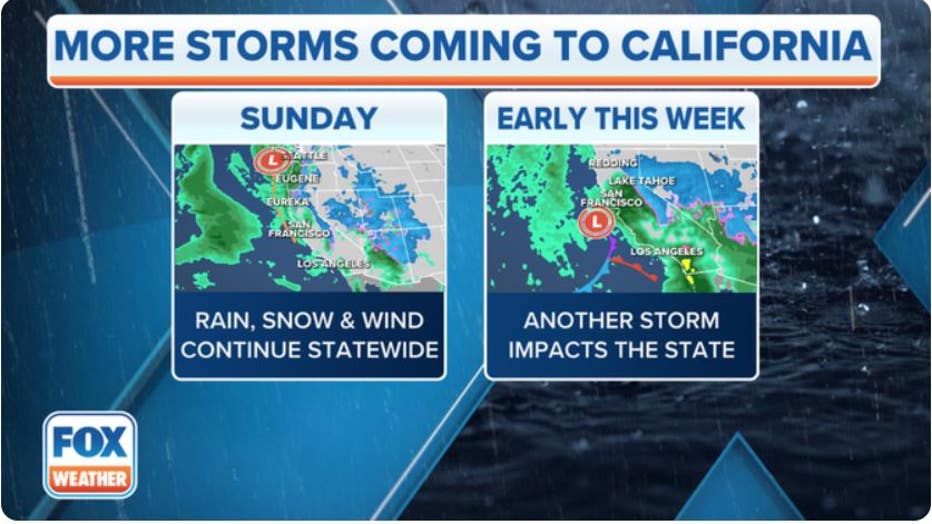 Another series of atmospheric river storms will impact California this week. (FOX Weather)
It will be a quieter day in terms of storm activity in California on Sunday, but rain will still be falling up and down the coast during the day.
"Now, we see a bit of a break in the rain for the day today, but it will continue," FOX Weather meteorologist Jane Minar said. "When we say a break, it's not going to be an onslaught of that heavy push of nonstop showers. But we will see some shower activity, especially in the coastal areas."
DRAMATIC IMAGES SHOW DEVASTATION FROM ONSLAUGHT OF ATMOSPHERIC RIVERS SLAMMING CALIFORNIA
Another storm to bring rain to California on Monday
The next atmospheric river storm will push into California starting early Monday morning. (FOX Weather)
According to the FOX Forecast Center, the bigger push of heavier rain will push into California starting late Sunday night into early Monday morning. That activity will last until at least Tuesday.
The heaviest rain activity will occur in the San Francisco Bay area, which has already seen one of the wettest rain years on record. According to the National Weather Service, this is now the 8th-wettest with more than 19 inches of rain that has fallen so far.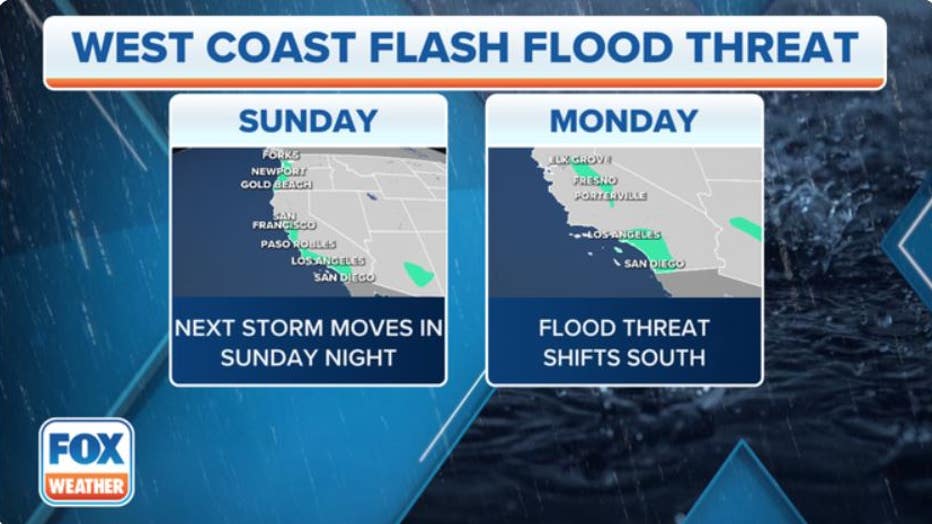 The flash flood threat on Sunday and Monday. (FOX Weather)
Flash flooding is going to be a concern on Sunday and Monday, with that flooding risk now extending into parts of coastal Oregon.
"We are watching the Bay area closely, south of San Francisco," Minar said. "But newly issued this morning is an area to watch along the Oregon coastline. So, just off to the west of I-5, Gold Beach to Newport to Astoria, getting up into southwestern Washington."
The rain forecast through Wednesday. (FOX Weather)
With this new atmospheric river storm moving in, the San Francisco area could pick up another 1-2 inches of rain.
Heading further south, the coastal ranges from Monterey Point south, the FOX Forecast Center is expecting another 2-3 inches from this latest storm.
From the Los Angeles Basin down into San Diego, there could be an additional inch of rain from this latest system with locally higher amounts.
In the San Bernardino Mountains, another 2-3 inches is expected. But another 5 inches of rain could fall in the San Diego mountains.
"And this is all going to continue to stream downstream, leading to the flood potential and that very quick onslaught of water," Minar said. "So, be very mindful of where you're driving into the early part of the week."