Blue Bell announces massive layoffs, furloughs after listeria crisis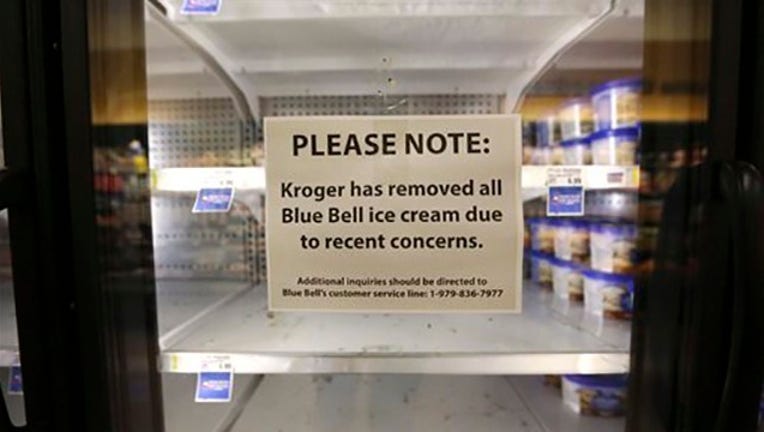 article
BRENHAM, Texas (AP) - Blue Bell Creameries announced a massive round of layoffs and furloughs Friday as it confronted the reality of long-term plant closures to recover from the listeria crisis.
The layoffs affect about 750 full-time and 700 part-time employees, or 37 percent of the Blue Bell workforce of 3,900, the company said in a statement.
Another 1,400 employees will be furloughed. Altogether, the actions affect nearly three out of four Blue Bell workers.
It's yet another agonizing blow to the century-old, homegrown company, reeling from a listeria outbreak linked to three hospital patient deaths in Kansas and illnesses in multiple states, plus the revelation that it knew about listeria on plant floors and pallets two years ago but didn't test production lines.
As the ice cream recall expanded from a narrow announcement to a total shutdown, Blue Bell's position on the workforce also shifted as management realized a recovery would mean radical plant upgrades, product testing and regulatory oversight that will keep facilities offline for months.
"In our entire history we've never had layoffs. It's not happening now," spokeswoman Jenny Van Dorf had said on April 22.
Last week, a company spokesman stepped back from that, responding to questions about layoffs by saying company officials were evaluating all operations.
FULL STATEMENT:
Due to the extended timeline required to ensure the highest quality and safety of Blue Bell's products when the company resumes production, and because supply and distribution will be limited for some time to come, Blue Bell Creameries CEO and President Paul Kruse today announced "the agonizing decision" that the company will have to reduce the size of its work force and take other cost-cutting measures, including furloughs and salary reductions.
"The agonizing decision to lay off hundreds of our great workers and reduce hours and pay for others was the most difficult one I have had to make in my time as Blue Bell's CEO and President," Kruse said. "At Blue Bell, our employees are part of our family, and we did everything we could to keep people on our payroll for as long as possible. At the same time, we have an obligation to do what is necessary to bring Blue Bell back and ensure its viability in the future. This is a sad day for all of us at Blue Bell, and for me personally."
The process of cleaning and improving Blue Bell's four production plants is going to take longer than the company initially anticipated, especially at the main plant in Brenham where major repairs and equipment replacements are expected. There is no firm timeline for when Blue Bell will begin producing ice cream again. When production resumes, it will be limited and phased in over time.
Kruse said the employee actions affect three groups:
Employees who are essential to ongoing operations and cleaning and repair efforts will continue to work but have their pay reduced.
A second group of employees will be placed on partially paid furlough. They will be paid a substantial portion of their current pay, with the expectation that they will return to work as production resumes.
Because there is not a clear timeline for when production will resume, and because supply and distribution will be limited when it does, a third group of employees will be laid off.
Approximately 1,400 employees will be furloughed, and approximately 750 full-time and 700 part-time employees – or 37 percent of the total Blue Bell workforce of 3,900 – will be laid off, Kruse said.
Blue Bell also made the difficult decision to suspend operations and lay off employees at the following distribution centers: Phoenix (2 branches) and Tucson, Arizona; Denver, Colorado; Indianapolis, Indiana; Kansas City and Wichita, Kansas; Louisville, Kentucky; Albuquerque, New Mexico; Las Vegas, Nevada; Raleigh and Charlotte, North Carolina; Columbia, South Carolina; and, Richmond, Virginia.
These decisions were based on the ability to service those locations given the limited production capacity Blue Bell expects when it resumes operations. Distribution centers typically service a 75 mile radius.
Blue Bell executives will be contacting area chambers of commerce to ask for their help for employees who have been laid off, and business owners who may have jobs available are encouraged to contact Blue Bell at 979-830-9831 or at jobs@bluebell.com.