75-year-old woman dies after ferry boat capsizes on excursion in Bahamas, officials say: 'It was terrifying'
NASSAU, Bahamas - An American tourist is dead, travelers are traumatized and an investigation is underway after a ferry boat sunk in the Bahamas. 
This happened yesterday during an island excursion trip in Nassau, which is a popular cruise destination for Floridians. 
FOX 35 News' Esther Bower spoke with travelers on board the sinking ship – and they're concerned there weren't enough safety protocols in place. 
Passengers said they were up to their shoulders in water and had no direction on what to do when the boat was sinking. Infants all the way up to seniors were on board, and a 75-year-old woman lost her life during the terrifying ordeal. 
Video from the incident shows people jumping off the sinking ship, hoping they'd be saved. 
Britanie Crippen and Derek Smoot were on board the sinking ferry, the Blue Lagoon Island ferry excursion. It wasn't their first time cruising, but it was their first time in the Bahamas. 
"There were boats passing us very fast and didn't stop to help. Just kept passing by, creating huge waves. I kept getting almost drowned by the huge waves crashing," Crippen said. 
The two said they didn't get any instructions from staff. 
"We got no instructions like, 'Hey, put on your life vest now.' It was, like, we figured it out when we were up to our shoulders in water," Smoot said.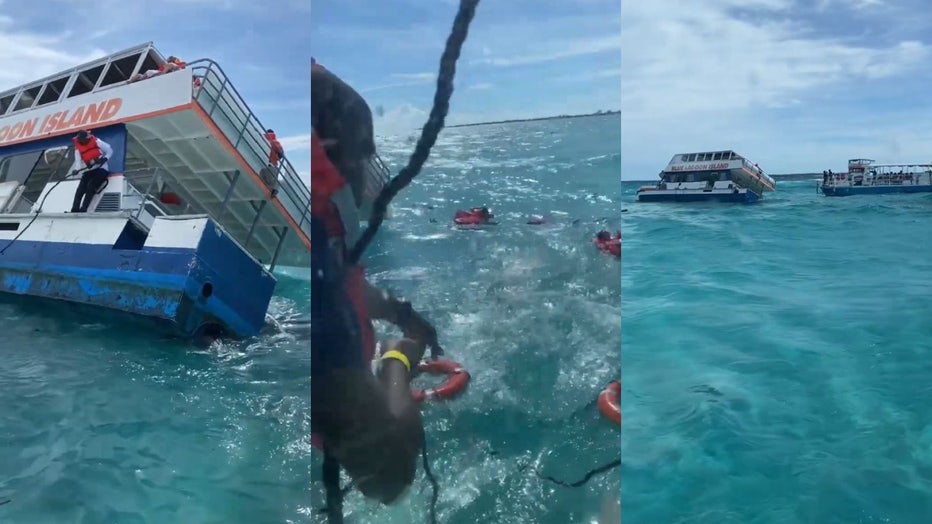 Credit: Sarah Plourde via Storyful
Passenger Kelly Schissel had a similar experience. 
"We were waiting for somebody to tell us what to do and nobody did," she said. 
Officials said two passengers were taken to the hospital and a 75-year-old woman died. 
"She was on a wheelchair, and she was on oxygen," Schissel said. 
She said first responders couldn't save the woman. 
"You could see the wheelchair and a bunch of people carrying different oxygen masks and tanks running up the pier toward where they lady was, and to my knowledge, they tried doing CPR and they just couldn't bring her back," Schissel said. 
MORE: Pilot killed after plane drops from radar, crashes in Florida, officials say 
Local authorities in the Bahamas are investigating what caused the boat to sink. The U.S. Embassy is also involved, with some passengers worried about planning another international vacation. 
"Going to a foreign country is something to be really cautious about," Crippen said, adding that everyone should take "extra precautions no matter what, even if no one gives it to you."
RELATED: Port Canaveral, one of Florida's biggest economic engines, running short on space as key players keep growing 
The people FOX 35 News spoke with were passengers on Royal Caribbean's Independence of the Seas ship, which arrived back in Miami on Wednesday. At this time, they said they're working with the ship to get refunds for the excursion. 
Officials said the care team is connecting with the family of the 75-year-old woman who died.