Bochy back in the San Francisco Giants dugout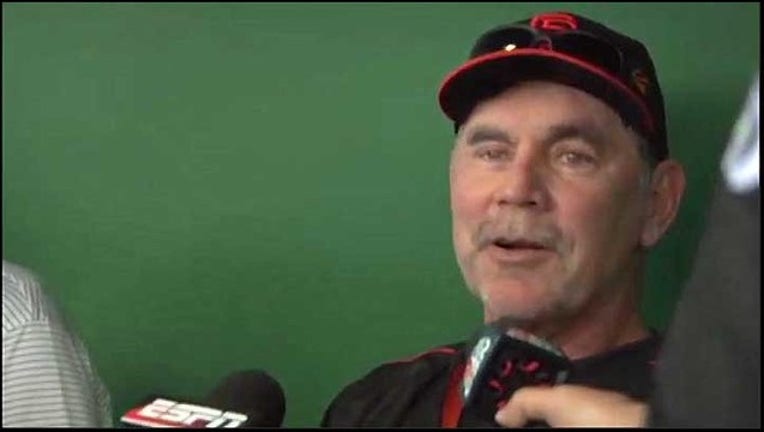 article
SCOTTSDALE, Ariz. (AP) -- Bruce Bochy watched Giants pitchers and catchers while a song by Waylon Jennings wafted over the sound system at Scottsdale Stadium.
All was OK for the San Francisco manager.
Bochy rejoined the World Series champions, three days after having a heart procedure.
"I couldn't feel any better," Bochy said. "I am grateful for the doctors and want to thank all the well-wishers who sent me messages."
The 59-year-old Bochy had two stents placed near his heart on Thursday night.
Doctors had told Bochy to stay from the ballpark for a few days. He slipped back into his office on Saturday.
Bochy said he didn't feel good for much of the winter, but he added: '"'It wasn't like I was crushing barbecue every night."
After he took his annual spring physical on Wednesday, Bochy followed the suggestion of team physician Robert Murray and team trainer Dave Groeschner and headed over to the Scottsdale Healthcare Osborn Medical Center.
"I go in and the next thing I know, I'm getting stents put in," he said.
Bench coach Ron Wotus supervised the workouts while Bochy was away. Wotus had Bruce Springsteen music piped into the ballpark in the interim – with Bochy back on the field, his favorite country songs took over.
"That was nice for him to make the change (back to country) for me," Bochy said.
"I kind of felt guilty sitting out for two days. But Ronnie has been here and I knew it would go like clockwork. Guys like him and the entire staff make it so much easier," he said.
Bochy has guided the Giants to three World Series crowns and is starting his 21st season as a big league manager.
Bochy won't be allowed to work out for a few weeks, and that likely will include missing his daily ritual of throwing batting practice. There are no dietary restrictions that he is aware of, "and I can even have a glass of wine if I want. I got a note from the people up in Napa (County, home of many wineries) saying that I could still drink the red."
Bochy's father passed away in 1990 because of heart problems. Bochy said he tried not to think about that.
"You try not to let that control you. You've got to live your life," he said, noting that he has been having cardiac checkups for about the last 10 years.
Bochy said he was still behind in responding to all the texts and emails. One was from longtime third base coach and friend Tim Flannery, who retired after last season.
"He was great," Bochy said. "He sent me a text saying, "I'm praying for ya. I love ya.'"
Bochy said he was eager for the upcoming season.
"There's a couple hundred thousand miles left on the old truck," Bochy said.
NOTES: Monday is reporting day for position players. They will undergo physicals and have the first full-squad workout on Tuesday. … OF Norichika Aoki, who faced the Giants in the World Series with Kansas City and then signed with the Giants as a free agent, was in camp. … RHPs Sergio Romo (shoulder tightness) and Tim Hudson(foot surgery) are making progress toward their return. Hudson likely will take longer because his surgery was in early January.