Body of last missing family member found in California river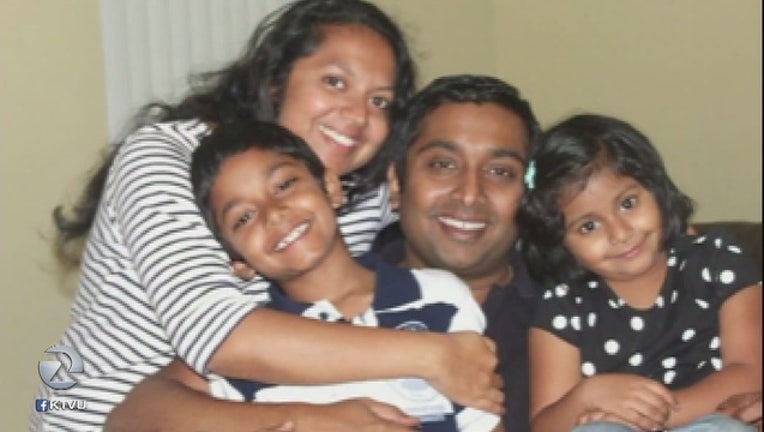 article
LEGGETT, Calif. (AP) - Searchers on Monday found the body of a 12-year-old boy in a Northern California river - the last of four family members who perished when their sport utility vehicle plunged into the rain-swollen torrent.
The body of Siddhant Thottapilly was found at about 4 p.m. submerged in the Eel River about 6 miles (9.6 kilometers) downstream from where the family car reportedly crashed, Mendocino County Sheriff's Office Capt. Gregory L. Van Patten said in a statement.
The body was found a day after the car with Siddhant's father and younger sister inside were pulled from the river sediment.
A search team on a boat smelled gasoline about a half-mile (1 kilometer) downstream from where the crash was reported and found the Honda Pilot underwater, authorities said.
Inside were the bodies of Sandeep Thottapilly, 41, and 9-year-old Saachi Thottapilly.
The boy's mother, Soumya Thottapilly, 38, was found Friday miles from the crash site in an area previously covered with water from the storm-swollen river.
The Thottapillys were traveling from Portland, Oregon, to their home in the Los Angeles suburb of Santa Clarita when they were reported missing April 8 after failing to show up for a visit with relatives in San Jose.
The crash site is about 200 miles (322 kilometers) northwest of San Jose.
The driver apparently had pulled off the road during a powerful storm but the SUV went over the edge of an embankment into the flooded river, sheriff's officials have said.
Dozens of searchers had been combing the river with Jet Skis, boats and kayaks, along with dive teams.
Farther south, authorities were still looking for the missing members of a different family whose SUV plunged off a towering ocean bluff along the Pacific Coast Highway last month.
Sarah and Jennifer Hart and their six adopted children were believed to be in the SUV at the time. Authorities say they believe the crash was intentional.
Five bodies were found March 26 near Mendocino, a few days after Washington state authorities began investigating the Harts for possible child neglect. Three of the children have not been found. A body was pulled from the surf April 7 but has not been identified.