Body-worn camera captures deputy's incredible rescue amid smothering Camp Fire flames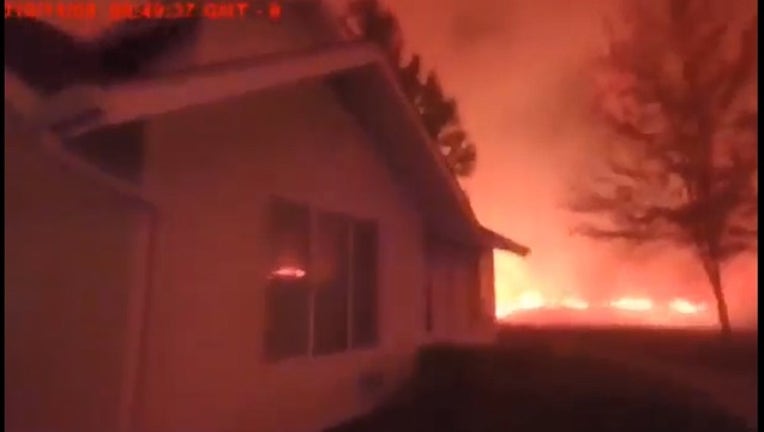 article
A Butte County sheriff's deputy activated his body-worn camera after his car became disabled in the growing Camp Fire flames  and he was forced to continue his pursuit on foot. Four nurses needed help evacuating a Paradise hospital on Nov. 8. The officer said he wanted to capture what he thought would be the last moments of his life.  
Instead, it became an incredible rescue. 
Visibility was reduced to 10 feet by the time Deputy Aaron Parmley ditched his vehicle on Pentz Road near Feather River Hospital. The footage he captured is a chilling display of the massive blaze that killed 88 people, destroyed nearly 14,000 homes and torched over 150,000 acres, making it both the deadliest and most destructive wildfire in U.S. history.  
On Wednesday, Butte County Sheriff Kory Honea announced they had searched all 18,000 structures where they believed human remains could be found. He said he was very confident with the searches his team performed, though he advised residents that there's still a chance they could discover human remains when they return home. 
Because as of Wednesday evening, the number of names on the daily list put out by the Butte County Sheriff's office was 197, down from 1,300 two weeks ago. However, there's been growing confusion as names of folks who were once reported missing, but were later found, are not being properly reported to authorities. They're are asking the public to report any names they see on the unaccounted for list that don't belong there. 
But confusion following disaster of this magnitude is common. Last October, Sonoma County officials at one point listed more than 2,000 people as missing, but that number slowly dropped. A total of 44 people died in the series of fires that ravaged several counties in the North Bay. 
The enormity of the Camp Fire is far greater than the Tubbs Fire, though, which destroyed over 5,600 total structures, compared to the nearly 19,000 in Butte County. 
Mobile users click here watch video of the incredible rescue 
California authorities are investigating whether PG&E's equipment started the fire, which adds to their mounting wildfire blame that includes starting 17 last year. After questioning the safety and qualifications of top executives, California regulators ordered PG&E to improve its "safety culture" on Thursday.  
More: Judge asks PG&E to explain any role it had in deadly wildfire
The San Francisco-based company was ordered by the California Public Utilities Commission to implement 60 recommendations from an independent consultant hired to examine PG&E's practices. The company responded and said they have already adopted many of the recommendations and they are committed to implementing the others. State officials have not determined the official cause of the fire. 
Towards the end of the video shared by the Butte County Sheriff's office, a bulldozer seemingly appears out of nowhere. Through panicked voices you hear a woman say there's no room and the driver say he can just take two people. It's unclear what was said next. But the officer with the body-cam bolted for another vehicle where the rest of the people jumped in before the driver asked everyone to stay quiet and the video ends. 
The Associated Press contributed to this report.