Breonna Taylor's family honors her legacy, continue demand for justice one year after her death
LOUISVILLE, Ky. - On the one-year anniversary of Breonna Taylor's death, the slain Black woman's family continued their call for justice as hundreds of demonstrators gathered in downtown Louisville on Saturday.
"Eyes are on Louisville, Kentucky, today so let's show America what community looks like," said Taylor's aunt, Bianca Austin, who wore her niece's emergency medical technician jacket.
Austin spoke from a stage set up in Jefferson Square Park, which became an impromptu hub for protesters during months of demonstrations last summer. Flanked by two hand-painted murals of Taylor, activists repeated calls to charge the police officers who killed the Black woman during a raid at her apartment.
The crowd shouted Taylor's name and "No justice, no peace" as they gathered near an outdoor memorial that includes a mural, posters, artwork and other mementos honoring Taylor's life. Some organizers gave away food during the speeches.
Taylor's family then led the protesters on an afternoon march past City Hall.
Taylor's front door was breached by Louisville officers as part of a drug raid in the early morning hours of March 13, 2020. Her boyfriend fired his gun once, saying later that he feared an intruder was entering the apartment. One officer was struck, and he and two other officers fired 32 shots into the apartment, striking Taylor five times.
Taylor's death initially flew under the media radar, as the COVID-19 crisis shut down society, but George Floyd's death in Minnesota and the release of a chilling 911 call from Taylor's boyfriend in late May sparked interest in the case.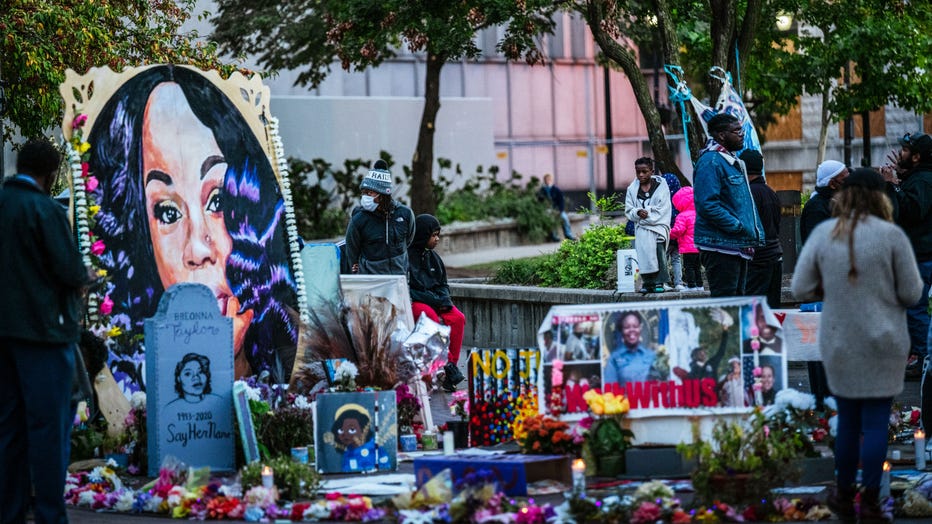 A crowd of protesters gather near the Breonna Taylor memorial in Jefferson Square Park on October 2, 2020 in Louisville, Kentucky. Kentucky Attorney General Daniel Cameron announced that the grand jury in the Breonna Taylor case had indicted LMPD off
A grand jury indicted one officer on wanton endangerment charges in September for shooting into a neighbor's apartment, but no officers were charged in connection with Taylor's death.
Police had a no-knock warrant but said they knocked and announced their presence before entering Taylor's apartment, a claim some witnesses have disputed. No drugs were found in Taylor's apartment.
An ongoing federal investigation could be wide ranging and is regarded by many as the last chance for justice for Taylor's death.
Months of protests, police reforms and investigations followed. The city banned controversial "no-knock" warrants, hired a new police chief and paid a $12 million settlement to Taylor's mother. Two of the officers who fired shots were dismissed from the department, along with a detective who sought the warrant.
Earlier this week, charges against her boyfriend, Kenneth Walker, in connection with the shooting were permanently dismissed. 
"They dropped the charges against me and that's a nice start ... but that's not where we finish. We've got to keep going," he said at Saturday's gathering.
RELATED: Charges permanently dropped in shooting case against Breonna Taylor's boyfriend from night she was killed
Meanwhile, an ongoing inquiry by the U.S. Department of Justice has been quietly proceeding. 
The federal investigation into her death will be "slow and methodical," experts said, examining everything from what the officers may have been thinking that night to how they were trained leading up to the shooting.
"The civil rights investigation will turn the whole situation upside-down," said Cynthia Deitl, the former head of the FBI's civil rights unit who has overseen similar police shooting probes. "You look at everything — everything the officers ever learned."
"It takes time to build a case against police officers," Deitl said.
She said a change in administrations in Washington wouldn't have an effect on the officials who are leading the case.
The FBI has declined to comment on specifics of the investigation, but there are signs that other actions by the Louisville Metro Police Department have drawn their attention. That includes the response to citizen protests, especially in late May and early June when the city was under a curfew and officers patrolled the streets in force.
Two of the Louisville officers, Myles Cosgrove and Brett Hankison, who fired guns during the March 13 raid have been dismissed, along with Joshua Jaynes, the detective who sought the warrant and later acknowledged that it contained false information. The third officer, Jonathan Mattingly, who was shot in the leg by Taylor's boyfriend during the raid, remains with the department.
Jaynes may face scrutiny for a false line in the warrant that he wrote for Taylor's apartment. The detective said he confirmed with a U.S. postal inspector that a suspected drug dealer was receiving packages at Taylor's home. He later admitted he didn't contact the postal service.
In a response to a civil lawsuit filed by Taylor's boyfriend, Jaynes said he made an "honest mistake" and did not knowingly break the law.
A recent internal investigation of the Louisville Police Department by a consulting firm found numerous problems with Louisville's warrant process. It said supervisors generally approved probable cause statements in search warrants "without performing an in-depth review" of the content.
Proving that Jaynes and other officers were aware they were violating Taylor's or others' civil rights will be key to a conviction in a federal case, Deitl said.
It's a high standard.
"The feds have to prove that the officer knew what he was doing, knew it was wrong and did it anyway," Deitl said.
That can lead to long-term investigations that sometime last years.
"It's frustrating for the public, but what I always try to tell the victim's family is: I know you're antsy; I know you want an answer from us today," Deitl said. "But what you really want is an honest and truthful and very thorough investigation, and that's going to take time."
This story was reported from Detroit. The Associated Press contributed