Brewers win challenge on disputed HR trot, fall to Giants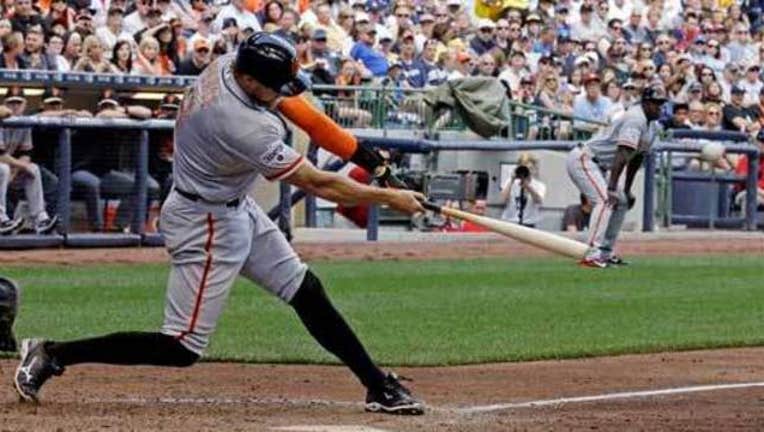 article
MILWAUKEE (AP) — The Milwaukee Brewers won a challenge after Khris Davis was called out for missing the plate on a home run trot, but Hunter Pence and the San Francisco Giants wound up with an 8-4 win Monday.
Davis hit a pair of solo homers, including one that led to a bizarre sequence.
In the first inning, he pointed in the crowd in celebration and skipped across the plate. It appeared to both umpire Will Little and Giants catcher Andrew Susac that Davis' right foot failed to touch down on the dish, and he was ruled out.
Brewers manager Craig Counsell contested the call and after a replay review that took several minutes, the home run counted. Davis stomped firmly in the middle of the plate after homering in the third.
Pence's two-run double capped a seven-run rally in the sixth. Center fielder Carlos Gomez made two errors in the inning.
The Giants trailed 4-1 before eight straight batters reached in one sequence. After Angel Pagan struck out for the second time in the inning, Pence's double off the left field wall made it 8-4.
Nori Aoki homered for San Francisco and reached base in all five plate appearances. Milwaukee lost its third in a row.
Giants starter Tim Lincecum (5-2) wasn't as effective as his previous three starts, giving up Davis' two homers and a tape-measure shot to Ryan Braun, but earned a win thanks to San Francisco's big sixth.
Lincecum went five innings, giving up four runs on five hits and three walks.
Kyle Lohse (3-5) took the loss.
Braun hit a 474-foot homer in the fifth. The two-run shot was the fourth longest in Miller Park history and cleared the left field bleachers. It gave Milwaukee a 4-1 lead, but the Brewers unraveled the following inning.
Pagan struck out to start the sixth before the Giants chased Lohse with three singles and a walk. Reliever Jeremy Jeffress was no better, allowing three more singles before giving way to Will Smith.
Smith walked Joe Panik and struck out Pagan, but gave up Pence's double. Neal Cotts ended the inning by striking out Brandon Belt.
Neither of Gomez's errors — failing to cleanly field Matt Duffy's single and later throwing well over Martin Maldonado's head trying to get Duffy at the plate — allowed unearned runs, but both plays were examples of sloppiness that has become a hallmark of Milwaukee's 16-30 start.