Bride arrested for DUI en route to wedding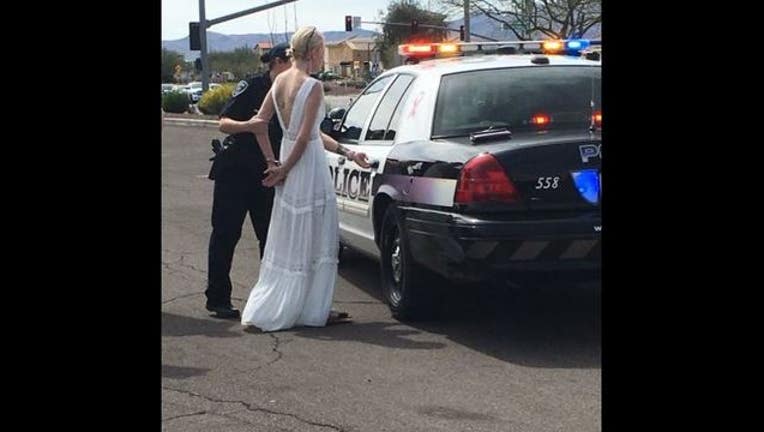 MARANA, Ariz. (KTVU) - A photo of a woman arrested for a DUI, and handcuffed while wearing her apparent wedding dress has gone viral. 
Marana Police tell KTVU 32-year-old Amber Young was driving to her wedding Monday around 10 a.m. when she was involved in a three vehicle crash. 
When officers arrived at the scene of the crash, one person had been transported with minor injuries. Officers noticed Young seemed impaired. She was taken into custody and was taken to a sub-station where she had her blood drawn to determine her blood alcohol content. As of 2 p.m. those results had not been released. 
Young told officers it was her wedding day. Sgt. Chriswell Scott tweeted that she was driving to her wedding at the time of the crash. Sgt. Scott wrote, "Don't drive impaired, till death do we part doesn't need any help."
Young's finance arrived at the substation to pick her up and likely whisk his bride away to their wedding ceremony, according to Marana Police. 
Young will be due to appear in court in several weeks. Additional details have not been released.