Burger Boogaloo 2015 Saturday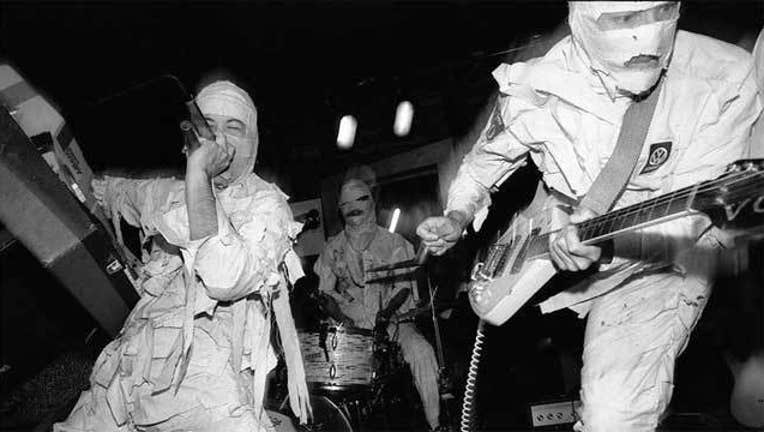 article
Now in it's sixth year, the annual Burger Boogaloo festival brings a host of great garage-rock bands to Oakland's Mosswood Park this July 4th Weekend for two full days of unhinged punk mayhem hosted by iconic film director John Waters. A partnership between SoCal imprint Burger Records and Bay Area rock promoters Total Trash Productions, Burger Boogaloo has established itself as one of the premiere underground rock festivals in the country on par with Goner Records' yearly Gonerfest and the Boogaloo's Southern California counterpart, Burgerama. While the music is central to the two-day event, Burger Boogaloo also features vendors selling records, clothes and guitar gear in addition to an array of food options.
This year marks the first time Burger Boogaloo has brought in a marque host in pencil-moustached director and revered trash-culture expert John Waters. Expelled from NYU where he was studying film in the 1960s, Waters rose to notoriety thanks to his string of '70s campy midnight movies including Pink Flamingos, Female Trouble and Desperate Living. Making up what the director termed his "Trash Trilogy," the films shredded the boundaries of conventional propriety and movie censorship with outrageous dialog and action as well as establishing drag queen Divine (Waters' friend from his Baltimore, Maryland childhood and muse, Harris Glenn Milstead) as an actor and cult figure.  
Waters would eventually go on to more mainstream success with his later films like Hairspray (which inspired the Broadway musical and movie adaptation), the Johnny Depp film Cry-Baby and the scathing satire Serial Mom, but he has remained an icon of trash culture between his b-movie appearances, books and This Filthy World is a one-man stage show exploring his artistic origins. More recently, Waters has explored visual arts with mixed media and manipulated photo exhibits that he admittedly (and laughingly) hopes people will despise. 
The line-up for the opening day of this year's explosion of unbridled garage-rock madness features two of the most beloved bands to influence the modern generation of trash disciples since the '90s. Headliners the Mummies first came together in San Mateo in 1988 and -- along with fellow Bay Area band the Phantom Surfers -- set a standard for snotty, Sonics-informed '60s style rock snarl. With their tattered mummy wraps and self-proclaimed "budget rock" attitude, the band's shambling, chaotic stage performances and lo-fi recordings stayed true to a DIY aesthetic until their dissolution in the early '90s.
While members of the band have had projects since (SF garage-rock figurehead Russell Quan has had a hand in the Count Backwurds, the Dukes of Hamburg, the Bobbyteens and many others), the Mummies resisted reuniting until 2003 when they issued their first CD Death by Unga Bunga. They have since reconvened for periodic festival appearances in SF (at Budget Rock 8) and abroad, but this marks their first Bay Area performance in six years.
Detroit-based outfit the Gories first came together in 1986 around future Dirtbombs leader Mick Collins and Dab Kroha (later of the Demolition Doll Rods) with drummer Peggy O'Neil rounding out the trio. Taking a blues-drenched, primitive approach to rock that echoed the Cramps and other purveyors of raw, early rock sounds, the band laid groundwork for a Midwestern style of garage that would later be heard in the White Stripes and a host of other Michigan acts.
While Collins stayed busy with the Dirtbombs and other projects through most of the 2000s, the Gories reunited in 2008 to tour with fellow revivalists the Oblivions. The band has recently been touring Europe and the U.S. and, while there are no plans to issue a new full-length album, the Gories did issue a single on Jack White's Third Man Records label earlier this year that featured their first new song in decades.
The balance of the Saturday bill reads like a who's who of garage-rock greats from the Bay Area and abroad including celebrated local trash purveyors Shannon & the Clams, Tokyo-based surf rockers the 5.6.7.8's (best known for appearing in Quentin Tarantino's Kill Bill, Vol. 1), reunited LA garage band the Pandoras, Japanese punks the Thunderroads, guitarist Deke Dickerson's mid-80s garage band Untamed Youth, psychobilly veteran the Legendary Stardust Cowboy and many more. For information and tickets, visit to the Burger Boogaloo website.

Burger Boogaloo 2015
Saturday-Sunday, July 4-5, 12 p.m. $39-$95
Mosswood Park