2 remain hospitalized after bus strikes 16 cars in Serramonte Center parking lot
DALY CITY, Calif. - A bus collided with 16 vehicles in the parking lot of a Daly City shopping center Friday afternoon.
Two people remain hospitalized in San Francisco after four were initially transported from the scene, according to SamTrans. Their injuries do not appear to be life-threatening, SamTrans said. The transit operator initially said one person was in critical condition.
The crash happened around 12:50 p.m. in a parking lot on the south side of Serramonte Center, not far from Target, according to the North County Fire Authority.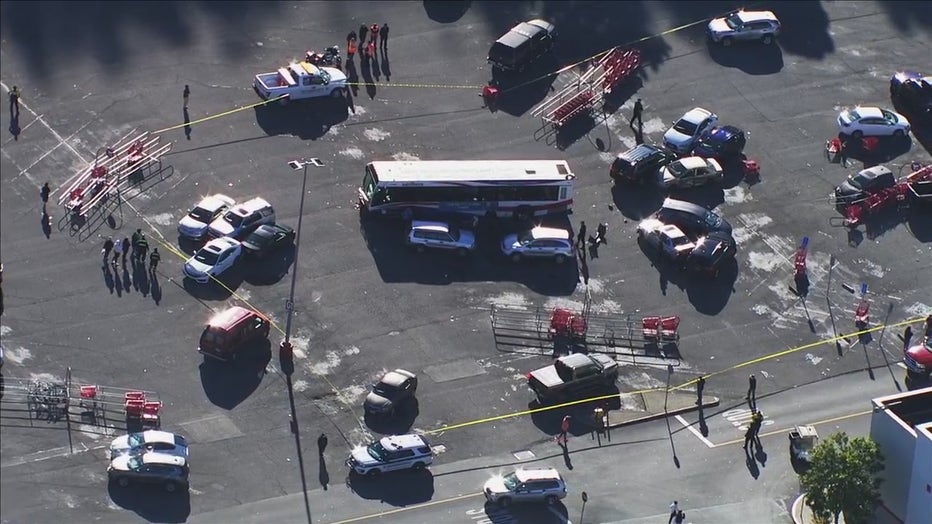 A SamTrans bus collided with several cars in a Daly City shopping center on Dec. 2, 2022. (KTVU FOX 2)
Authorities described the crash as a "multi casualty incident" involving a county bus. San Mateo County Sheriff's Office deputies are on hand and are investigating.  
It's unclear what led up to the bus's out-of-control journey through the parking lot. 
Video from Citizen App shows the aftermath of the crash with a stalled SamTrans bus in the middle of the parking lot with a mangled shopping car under the front of the bus.
Authorities asked the public to avoid the area as the investigation is ongoing.
SamTrans offered sympathy to those who were affected, adding that safety of their riders, employees and the public is their priority. "We are working with authorities and actively looking into the cause of this incident to figure out what went wrong and how it can be prevented in the future. We will provide a more thorough update once that investigation is complete. Our hearts continue to be with those who were impacted today," said SamTrans general manager and CEO April Chan. 
Some shoppers emerged to find their cars smashed and pushed across the parking lot. 
"I was shopping at Target, came out after shopping, and was kind of like, 'Where's my car?' And then I said, 'Oh, that's my car.' And it was totaled. The bumper was hanging off. Glass was broken in, couldn't open the door and I kind of realized, I parked over there and now my car's over here. I started realizing I was in a sea of damaged cars," said Lisa Clossey. "Hopefully everyone makes it out OK. I don't know what happened or why the bus went crazy. It had to have been moving fast because my car moved quite a bit." She said she spoke with another shopper whose car was also struck and he said it moved quite a bit. The shopper she spoke with was not injured. 
Tow trucks are at the scene clearing some of the cars that were rendered incapacitated. 
KTVU'S Christien Kafton contributed to this report.