Byrd's bases-loaded single, homer lead Reds over Giants 4-3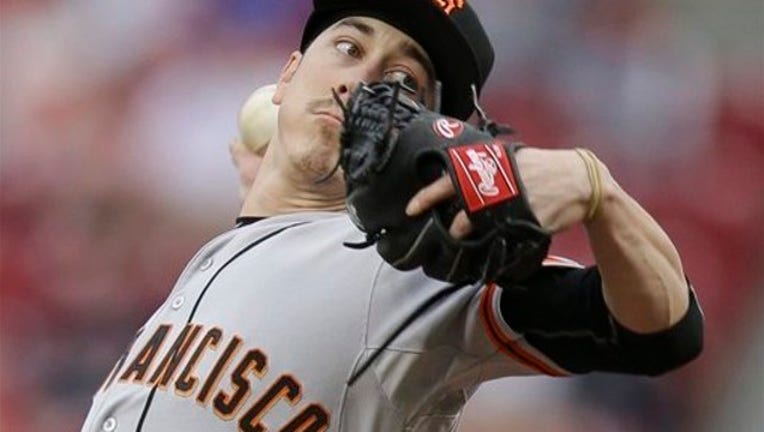 article
CINCINNATI (AP) — The Reds traded for Marlon Byrd to try to finally get something out of a left fielder. After a terrible April, he's making the move pay off.
Byrd hit a bases-loaded single and a tiebreaking solo homer in the eighth inning Thursday night, leading the Cincinnati Reds to a 4-3 victory over the San Francisco Giants.
The Reds have won 12 of their last 15 regular-season games against the Giants at Great American Ball Park. Byrd played the biggest role in this one.
"He got off to a slow start, but he worked diligently," manager Bryan Price said. "He labored to get his swing worked out and it's paying dividends now."
Byrd batted only .169 in April with two homers, eight RBIs and 25 strikeouts. He has emerged from his slump and leads the team with 14 RBIs in May while hitting homers in six of his last 11 games.
"I have to prove to the people who believe in me, for putting me out there after the April I had," Byrd said. "It's easy to try and go in another direction, which (Price) could have done. But he kept faith in me."
Byrd's two-run single off struggling Tim Lincecum put Reds starter Johnny Cueto in position for a win. He turned a 3-2 lead over to the NL's worst bullpen in the eighth, and it got away.
Joe Panik tripled with one out — extending his hitting streak to a career-high 10 games — and scored on Angel Pagan's single off Tony Cingrani to tie it at 3. Jumbo Diaz (2-0) retired the last two batters to end the inning.
Byrd connected off Sergio Romo (0-2) with one out in the eighth, his eighth homer of the season. Aroldis Chapman fanned two of the three batters in the ninth for his seventh save in as many chances.
Cueto gave up two runs and five hits in seven innings, fanning nine. He let in one run with a balk.
"I got (my) hands caught in my shirt and couldn't get them out without committing a balk," Cueto said.
Lincecum brought a streak of 15 scoreless innings into the game, but had trouble just keeping his footing on the mound. Lincecum walked five, hit a batter, threw a wild pitch and gave up three runs in only 4 2/3 innings.
Both starters had long first innings.
Cueto gave up a pair of hits, including Buster Posey's RBI single, while throwing 23 pitches. Lincecum walked three consecutive batters with two outs before Jay Bruce flied out to the warning track in center on his 32nd pitch.
Gregor Blanco doubled off Cueto in the third, advanced on a groundout and scored on Cueto's fourth balk, the most in the majors.
Lincecum gave up a double to Todd Frazier in the fourth, then slipped to his knee while throwing ball four to Byrd. Brayan Pena's RBI single ended Lincecum's scoreless inning streak at 18 and cut it to 2-1.
The Reds loaded the bases in the fifth, and Byrd hit an opposite-field single for a 3-2 lead on Lincecum's 99th and final pitch.
REMEMBERING DOC
The Reds remembered Darrell "Doc" Rodgers before the game. Rodgers died earlier in the week from cancer at age 52. Rodgers spent 14 years in the Reds organization, including six as an assistant general manager.
CUETO'S BALKS
Cueto had only one balk in the last two seasons combined and eight in 194 career games heading into 2015. He has four in eight starts this season.
TRAINER'S ROOM
Giants: Posey's bat broke on a groundout in the sixth, with the barrel hitting plate umpire Alfonso Marquez on the left hand. The umpire was examined by trainers for several minutes and stayed in the game.
Reds: Second baseman Brandon Phillips was out of the lineup for the second day in a row with a sprained left big toe.
UP NEXT
Giants: Left-hander Madison Bumgarner is 2-4 career against the Reds with a 5.05 ERA in seven starts.
Reds: Jason Marquis is 7-5 with a 2.95 ERA in 17 career starts against the Giants.