Cain can't get through 2nd inning in Giants' loss to A's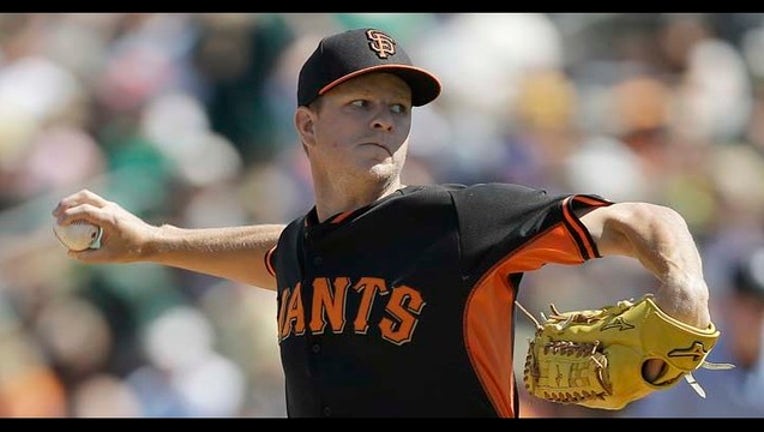 article
MESA, Ariz. (AP) -- Matt Cain was roughed up for four runs in 1 2-3 innings and Billy Burns collected three hits for a second straight game as the Oakland Athletics beat the San Francisco Giants 5-2 Saturday in a split-squad game.
Cain, in his second appearance following a return from elbow surgery, allowed six hits, did not walk a batter and struck out one.
Cain attributed his results to not being able to locate as well as he wanted. His stuff and arm feel great, he said, and he's on schedule to get stretched out in time for the start of the season.
"I got my pitch count up and worked every scenario, I just didn't make pitches," Cain said. "Now it's making sure my arm is able to repeat it and being able to get up and down."
Cain will go through his normal routine over the next five days as he prepares for his next start.
"The nerves were still there, which is good," Cain said. "This one felt more like a normal start."
Ben Zobrist doubled and drove in two runs and Eric Sogard had a hit and drove in a run for the A's. Burns had three triples this spring.
Casey McGehee doubled twice and drove in both of the Giants runs. He's 10 for 20 in exhibition play.
Jesse Chavez gave up two runs, both in the first inning, on five hits over 4 1-3 innings. He struck out four and walked none.
REMEMBERING AL
Giants equipment manager Mike Murphy, who has been with the team since it moved to San Francisco in 1958, said he will miss Al Rosen, who helped the Giants organization recover from a 100-loss season in 1985 to become NL champions in 1989. "He was a good man," Murphy said. "He was very good to get along with."
Rosen, who passed away at the age of 91 late Friday night, served as the Giants GM from September of 1985 to the end of the 1992 season, bringing manager Roger Craig with him. He was credited with turning a windy, miserable Candlestick Park into a home team advantage.
"He always tried to turn things into positive experiences," Murphy said. "He loved the Giants. I wish we could have won the World Series for him in '89."
STARTING TIME
Athletics: Chavez was able to make an adjustment after a rough first inning and ended on a solid note.
"I was rushing a little bit with my mechanics, throwing my hip out too quickly," he said. "It was a matter of me trusting myself to know what I needed to do. I started driving the hill."
Chavez was allowed to start the fifth inning, something that was important to him after failing to go three innings his last outing.
"Today the whole goal was to go four innings and being able to go back out for the fifth was nice, and not even reaching my pitch count."
TRAINER'S ROOM
A's: OF Josh Reddick (strained right oblique) took part in the team stretch and threw from 60 feet. ... INF Ike Davis (back) and OF Coco Crisp (sore left triceps) are taking an extra day or two off and should be back in action in the next few days. ... RHP Jarrod Parker (Tommy John surgery) threw 20 pitches to hitters on Friday and will do so again on Wednesday.
Giants: RHP Sergio Romo (shoulder) threw a successful bullpen on Friday and will see game action Sunday. ... C Buster Posey got a routine day off. ... RHP Tim Lincecum (neck) has shown no improvement.
UP NEXT
Giants: RHP Tim Hudson makes his second start of the spring Sunday against the Arizona Diamondbacks.