Cal introduces Michael Williams as new athletic director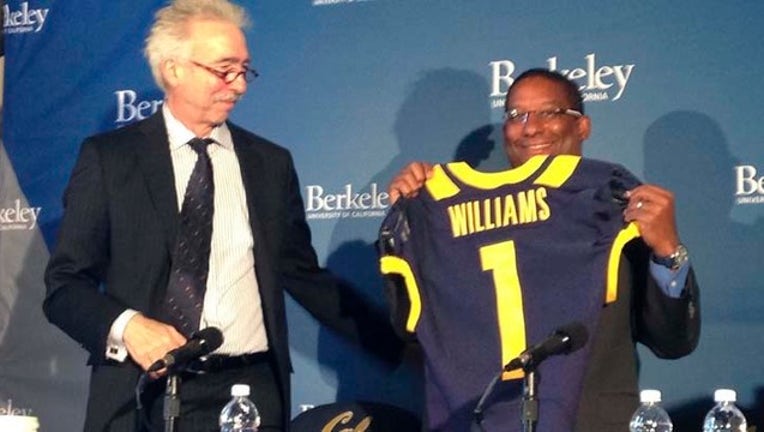 article
BERKELEY, Calif. (AP) -- The moments that made Michael Williams want to be California's athletic director were the ones he never expected.
There was the time defensive lineman Austin Clark gave him "the biggest, sweatiest, bloodiest, nastiest hug." Or when he "ended up almost drowning" in the pool after the women's swimming and diving team won the national championship. And then there was swimmer Missy Franklin, dripping wet, running over to embrace Williams anyway.
"You just don't get that anywhere else," he said.
Chancellor Nicholas Dirks introduced Williams as the university's full-time athletic director Friday in front of about 100 department staff, coaches and university employees at Haas Pavilion.
Williams took over for the departed Sandy Barbour on an interim basis last July. He originally said he was not a candidate to replace her and just wanted to stabilize the department.
Ten months of memories later, the job turned out to be too good to pass up.
"What changed was the people," Williams said. "I learned very quickly that this is a people business. It's about our staff, it's about our coaches, it's about the student-athletes that those coaches bring in and coach up and graduate as full participating adults. And frankly, all those other opportunities that faced me didn't have the same emotional reward as this one does."
The university did not immediately release Williams' contract details, saying it was still being finalized.
California Lt. Gov. Gavin Newsom, who has been on a crusade to tie the jobs of athletic directors at the state's public universities more to the academic performance of athletes, released a statement praising the term sheet.
Newsom called the contract a "bold move by Chancellor Dirks and his team, and signals a welcome departure from the de minimis attitude toward academia at athletic departments in too many of our nation's universities."
Dirks said it became clear during the search that Williams was the most qualified candidate.
Williams is a former wrestler at Cal, graduating in 1982 with a degree in economics. He worked for Barclays Global Investors for more than 16 years before retiring in 2009 but had no background in athletics administration until last summer.
Williams had been very active on campus, though, serving as vice chair of the UC Berkeley Foundation, chair of the foundation's Campaign Steering Committee and a member of the Chancellor's Task Force on Academics and Athletics before taking the interim AD job.
Dirks said seven athletic directors in the Pac-12 are from non-traditional backgrounds, and he considers Williams' business experience a bonus at a time college athletics is going through dramatic changes, particularly with improving benefits for athletes.
"My No. 1 guy," Dirks said as he introduced Williams, holding up a No. 1 blue Cal jersey with Williams' name on the back.
Williams helped implement new standards to improve the academic performance of athletes in response to the school ranking near the bottom of the Pac-12 in graduation rates for football and men's basketball. Both programs began to show signs of improvement late in Barbour's tenure that has continued under Williams' watch.
Since becoming the interim AD, Williams said he has "flattened out the leadership team and made certain that the associate athletic directors, who are the subject matter experts in their area, are at the table with us for all decision-making."
"If I'm the smartest guy in the room, we're in the wrong room," he joked.
Williams said he feels empowered to make bigger moves now, and he expects to announce department staff changes in the coming weeks. But he doesn't foresee that coming in the form of coaches.
Williams praised football coach Sonny Dykes and men's basketball coach Cuonzo Martin, who were among those who attended Williams' news conference. He noted the job Dykes has done in improving academic performance of the football team, which is 6-18 in his first two seasons.
"He has told me from day one, even before I had this role, that the third year is the great year in the Sonny Dykes system. So I'm looking forward to the third year," Williams said, chuckling.
"No pressure," he added.
Among the other changes Williams wants to make is integrating athletes more with other students, including in university housing and orientation; raising the academic admissions standard; and looking at new ways to generate revenue from new and existing facilities.
Now that he has more authority to take action, Williams is eager to get back to work.
"I have a 40-year relationship with the campus," Williams said. "I expect that to go for 40 years or more in one way or another."