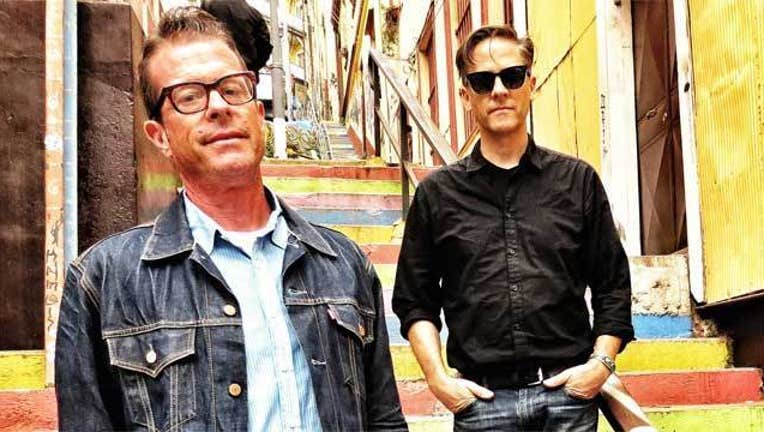 article
For the better part of two decades, eight albums, and countless trips around the globe, Calexico principals Joey Burns and John Convertino have crossed musical barriers with their band, embracing a multitude of diverse styles and a wide variety of instrumentation while crafting their global cinematic sound. The two musicians met when Burns -- who was studying music at the University of California, Irvine -- met up with Convertino, who was playing drums with Howe Gelb in Giant Sand. Burns joined the group after playing upright bass on a European tour.
When Giant Sand relocated to Tucson, Arizona in 1994, the pair followed, though they eventually split off and formed the Friends of Dean Martin (later the Friends of Dean Martinez) with co-founder Bill Elm. The group scored a record deal with Sub Pop with it's mix of Americana, indie instrumental rock and lounge, but the duo would split from the group after their debut album.
Burns and Convertino would become a noted indie rhythm section for hire, working with singer/songwriters Victoria Williams, Barbara Manning and Richard Buckner before deciding to forming Calexico. Drawing on some of the same influences as Friends of Dean Martinez, the new band would inject elements of regional Latin musical styles, Ennio Morricone's spaghetti western soundtracks and and more into a heady brew.
The group would release a string of acclaimed mostly instrumental efforts for Quarterstick Records including their seminal early efforts The Black Light and Hot Rail while regularly collaborating with an array of singers including Neko Case, Nancy Sinatra and Iron & Wine. With their 2006 album Garden Ruin, Calexico introduced more vocal tunes and a more straightforward pop songwriting approach while still maintaining its eclectic nature.
A powerful live act, the band has become a festival favorite with Burns and Convertino leading the seven-piece touring group through a wide range of material. The outfit comes to the Bay Area for two shows in San Francisco and Napa promoting its latest celebrated recording for Anti-, Edge of the Sun, an album that drew inspiration from a band visit to Mexico City. Songwriter Connor O'Brien's Irish indie-folk group Villiagers plays songs from their new album Darling Arithmetic to warm up the crowd at both concerts.  
Calexico with Villagers
Wednesday, July 8, 8 p.m. $29.50
The Fillmore
Thursday, July 9, 8 p.m. $30-$40
City Winery Napa