California almost completely drought free thanks to winter storms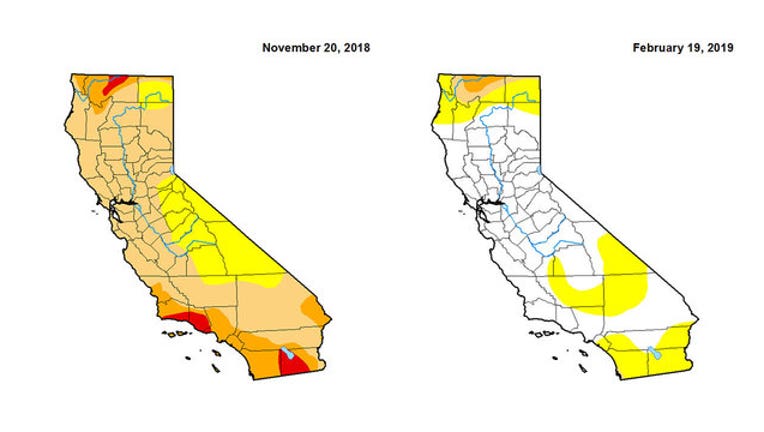 article
LOS ANGELES (FOX 11) - The significant amount of rain California received over the past month has significantly reduced the drought conditions across the state.
A new report released on Thursday by the U.S. Drought Monitor states that more than 67 percent of the state was free of all dryness and drought conditions, up from 36 percent two weeks ago. Just three months ago following the Woolsey and Camp Fires, 0 percent of the state was drought-free.
Early- to mid-February precipitation pounded California, ensuring an above-average Sierra Nevada snowpack but triggering flash flooding and mudslides, according to the report. Precipitation hit southern California especially hard on February 14, when Palomar Mountain reported its wettest 24-hour period on record (10.10 inches; previously, 9.58 inches on March 1, 1991). Palm Springs, California, received 3.69 inches on February 14, accounting for 64% of its normal annual precipitation.
The National Weather Service Climate Prediction Center's 6-10 day precipitation outlook states that temperatures will remain significantly below average across large sections of the northern, western, and central U.S. Meanwhile, near- or above-normal precipitation across most of the country should contrast with drier-than-normal conditions from southern California to the southern Plains and parts of the mid-South.