California gets battered again with rain and snow; dry days ahead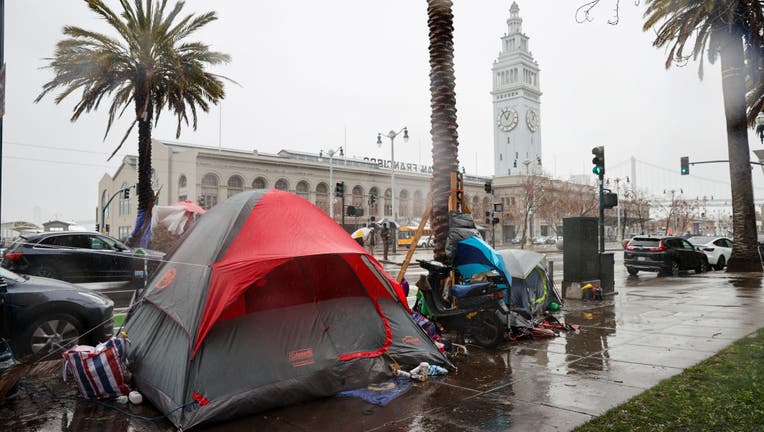 article
SACRAMENTO, Calif. - More rain and snow fell during the weekend in storm-battered California, making travel dangerous and prompting new evacuation orders over flooding concerns along a swollen river near Sacramento.
Bands of thunderstorms with gusty winds started Saturday in the north and spread south, with yet another atmospheric river storm following close behind Sunday, the National Weather Service said.
Up to two inches of rain was predicted for the saturated Sacramento Valley, where residents of semi-rural Wilton, home to about 5,000 people, were ordered to evacuate as the Cosumnes River continued to rise.
Another three inches of snow and gusty winds were expected in the Sierra Nevada. Interstate 80, a key highway from the San Francisco Bay Area to Lake Tahoe ski resorts, reopened after being closed most of Saturday because of slick roads, snow and whiteout conditions.
The University of California Berkeley Central Sierra Snow Lab tweeted Sunday morning that it received 21.5 inches of snow in 24 hours. Its snowpack of about 10 feet was expected to grow several more feet by Monday.
A backcountry avalanche warning was issued for the central Sierra, including the greater Lake Tahoe area, through Monday.
The California Highway Patrol rescued three people whose car slid off a rain-slicked road and ended up teetering at the edge of a cliff in the Santa Cruz Mountains on Friday. The occupants of the car "were scared for their lives and were in disbelief" when they were pulled safely from the car as the vehicle's front end hung precariously over the cliff's edge, the highway patrol said. 
"We cannot stress this enough. Please ONLY drive if it's necessary," the statement said.
Just to the south in Santa Cruz County, the tiny community of Felton Grove along the San Lorenzo River was under an evacuation warning.
The swollen Salinas River swamped farmland in Monterey County. To the east, flood warnings were in effect for Merced County in the agricultural Central Valley, where Gov. Gavin Newsom visited Saturday to take stock of problems and warn of still more possible danger.
"We're not done," Newsom said. He urged people to be vigilant about safety for a few more days, when the last of a parade of nine atmospheric rivers was expected to move through.
In Southern California, winter storm warnings and advisories were in place for mountain areas, where many roads remained impassable because of mud and rock slides. Two northbound lanes of Interstate 5 near Castaic in northern Los Angeles County were closed indefinitely after a hillside collapsed.
The series of storms has dumped rain and snow on California since late December, cutting power to thousands, swamping roads, unleashing debris flows, and triggering landslides.
President Joe Biden declared a major disaster in the state and ordered federal aid to supplement local recovery efforts in affected areas.
At least 20 storm-related deaths have occurred, and a 5-year-old boy remained missing after being swept out of his mother's car by floodwaters in San Luis Obispo County.
Dry days are in this week's forecast for California starting on Tuesday.