CatVideoFest returns to Roxie Theater, benefits feral felines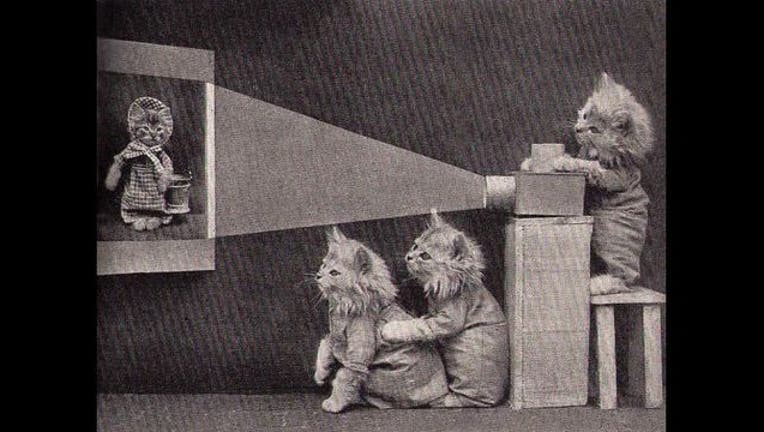 SAN FRANCISCO (KTVU) - You don't have to watch cat videos in the privacy of your own home anymore.  
San Francisco Roxie Theater's CatVideoFest is founded by filmmaker Will Braden, creator of YouTube sensation Henri, le Chat Noir and curator of the popular Internet Cat Video Festival.
The group is a social purpose corporation (SPC) dedicated to raising awareness for cats in need. That's why a portion of the proceeds from the fest goes to Fix Our Ferals, a Richmond-based nonprofit with the mission of ending Bay Area cat and dog overpopulation.
The festival boasts a 70 minute reel with over 100 clips. Roxie Theater "purr-omises" a "pawsitively good time." 
For an example of what to expect, Braden's YouTube short featuring Henri, which has garnered 22,000 views, depicts a fatalistic tuxedo cat who lives the hard life. Through captions we gather that this pussy rarely purrs and his existential crisis includes drinking filtered water that tastes impure.
The fest's teaser shows cats in silly predicaments; i.e: cups stuck on their faces, that ready to pounce cat that has been used most memorably in a Shaq GIF and other feline follies and cuteness. 
"Every time we look at our screens, it's bad news," said Lex Sloan Roxie Theater's general manager. "It's going to be a silly look at the pure, ridiculous joy with all the warm fuzzies." 
We should note the Roxie has been known for its "BYOD (Bring Your Own Dog)" screenings and recently did this for the Wes Anderson film I Love Dogs. Somehow we're pretty sure cats will be indifferent about not being invited. 
But the problem of feral cats is 'fur-real.' Corinne Lamata, director of development and communications at Fix Our Ferals, said the organization, founded in 1998, is passionate about access to care. 
They are on track to spaying and neutering 5,500 animals between January 1, 2018 to December 31, 2018. 
"80 percent of them are cats, but some of that does include cats that are pets," Lamata said over the phone days ahead of the festival. Dogs make up part of that figure as well. 
"[The Roxie] approached us about another event last year and decided we were a good partner," Lamata said. 
Besides spaying and neutering, Fix Our Ferals also offers affordable surgery at the capable hands of Jean Goh DVM, on a case by case basis. She reopened the organization after it closed for about a year in 2016, according to Lamata. 
"It's important to animal welfare organizations to gain more exposure and support for welfare in the Bay Area," Lamata said. 
If you want to kill two birds with one stone and support independent film, repertory theaters and "free-roaming cats," you should head to the Mission District for the screenings on Sunday and again on Monday. 
Roxie Theater
3117 16th Street, San Francisco, CA 
(415) 863-1087