CAUGHT ON TAPE: Bus confrontation between SF police officer and homeless man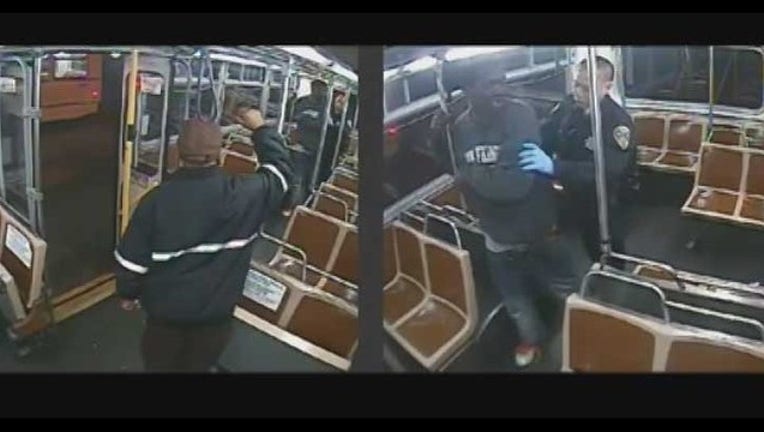 article
SAN FRANCISCO (BCN) -- San Francisco Public Defender Jeff Adachi released video Thursday of a police officer appearing to pursue and strike a homeless man with a baton after rousting him from the back of a San Francisco Municipal Railway bus earlier this month.
The homeless man, identified by Adachi's office as 36-year-old Bernard Warren, was arrested on suspicion of threatening an executive officer and was incarcerated for two weeks following the incident. His case is set to go to jury trial on March 6, according to the public defender's office.
The public defender's office released quotes from Officer Raymond Chu's report of the incident, which describes Warren approaching Chu with "clenched fists." However, the surveillance video released appears to show Chu continuing to pursue Warren once he got him off the bus.
Chu "lost his temper," Adachi said in a statement.
The incident began at about 11 p.m. on Feb. 11 when a 5-Fulton Muni bus reached the end of the line at Cabrillo and La Playa streets near Ocean Beach. Warren was asleep at the back of the bus and Chu was called in to remove him, according to the public defender's office.
The video shows it takes about 30 seconds for Chu to wake Warren up. Once Warren is awake, he appears disoriented and is slow to stand up and walk toward the bus exit.
Chu starts pushing Warren toward the exit, but when Warren turns and says in slurred speech, "I could beat your ass," Chu becomes aggressive and violently pushes him toward the door, the video shows.
Once outside, the video Warren begins walking from the bus, but Chu stands nearby, pulls his baton, walks after Warren and repeatedly says, "Are we done here?"
According to the video, Warren keeps walking away, but at one point briefly turns back toward Chu, who then strikes him with the baton.
Chu continues following Warren away from the bus and at one point deploys pepper spray, according to the public defender's office.
According to the police report cited by Adachi's office, Chu wrote that he hit Warren in the legs five times before using the pepper spray.
"The baton strikes were again ineffective, and Warren was attempting to flee from the scene. I then used my department issued (pepper spray) and administered a 3 second burst to Warren's eye area," Chu wrote in the report, according to Adachi's office.
The public defender's Chief Attorney Matt Gonzalez said in a statement that Chu's actions were a "reckless and unnecessary escalation of force."
"There was no justification for the use of a baton or pepper spray. Officers must be trained to diffuse conflicts rather than intensify them. We should not expect these routine encounters to end in bruises and burns," Gonzalez said.
Warren faces up to a year in jail if convicted of the threats charge. Chu has not faced discipline for the incident, according to the public defender's office.
San Francisco police said they were not yet commenting on the case.