Cavs' Irving has fractured knee cap, out for 3-4 months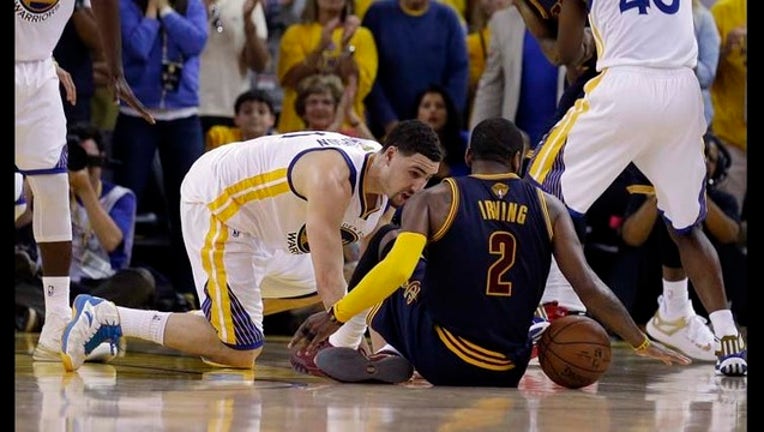 article
 OAKLAND, Calif. (AP) -- The Cleveland Cavaliers finished off Chicago and swept past Atlanta, even when Kyrie Irving wasn't available.
Now they have to find their way past the Golden State Warriors in the NBA Finals without him.
Irving has a fractured left kneecap and will have surgery that could sideline him for three to four months, the Cavaliers said Friday.
Already without Kevin Love, the Cavaliers are now without their All-Star point guard, who had been playing in pain for most of the postseason and was injured again in the final minutes of Game 1 on Thursday night.
"As far as how we prepare, we've been through this. We've played games without Kevin, without Kyrie," coach David Blatt said Friday, before the team announced Irving's diagnosis. "We know how we want to play when they're not in there. From that standpoint, we can prepare. Our main concern right now though is just Kyrie's health. That's all."
The Cavaliers said an MRI exam Friday at Stanford Sports Medicine Clinic revealed the injury and that surgery will be performed at the Cleveland Clinic in Cleveland by Cavaliers head team physician Dr. Richard Parker.
"Saddened by the way I had to go out but it doesn't take away from being (a part) of a special playoff run with my brothers," Irving wrote in a Twitter posting. "Truly means a lot for all the support and love. I Gave it everything I had and have no regrets. I love this game no matter what and I'll be back soon."
Irving limped off the court during overtime of Cleveland's 108-100 loss on Thursday night and left the arena on crutches. He has been bothered by foot and then knee pain for most of his first postseason, sitting out the second half of the series-clinching victory over Chicago in the second round.
He then missed two games during the Eastern Conference finals, but played well Thursday, finishing with 23 points before leaving with 2 minutes left in the extra period.
Matthew Dellavedova stepped in during Irving's absence in the last round but played only 9 scoreless minutes Thursday.
LeBron James said Friday the Cavs would be prepared no matter who was available.
"Well, there are a few things that you would love to have going late in the season," he said. "That's being healthy, having a great rhythm, and then you need a little luck as well. We've had a great rhythm. We haven't had much luck, and we haven't been healthy. But I haven't gotten discouraged.
"I understand the moment that I'm in, and I'm not too much worried about the game. I'm worried about the moment. I'm happy with the moment. I'm excited to be in this moment once again, and I'm going to stay strong for my team, no matter who is or is not in the lineup."
The Cavs have battled injuries throughout James' first season back in Cleveland. Starting forward Anderson Varejao was lost to a ruptured left Achilles tendon months ago, then Love's dislocated left shoulder came as the Cavs were finishing a first-round sweep of Boston.
Now they are without one of the league's dynamic performers, who had posted the NBA's two highest-scoring games this season with 57 and 55 points, against a team that Warriors already had a decided advantage in depth.
"Well, Golden State has a very deep roster that's been one of their strengths throughout the season. We've been a team that's been struck with injuries that has shortened ours to a certain extent," Blatt said. "I think we did pretty good coming through that. We're here in the NBA Finals. But certainly their depth is something that has to be reckoned with, and it's a factor for them."
Still, the Warriors insisted it wouldn't make things easier as they chase their first title in 40 years.
"So we can't assume that Kyrie plays or doesn't play that it's going to be a cakewalk for us to get a championship," Warriors star Stephen Curry said. "It's still going to be a challenge. It's still going to be tough. We have to control what we control and do what we do."
James scored 44 points Thursday, his most ever in the finals. He's dealt with having important teammates hurting in the finals, from the Cavs shutting down Larry Hughes midway through the 2007 series to Dwyane Wade's leg injuries last season.
He said the good thing now is the Cavs were already used to playing without Irving.
"So, next man up," he said, "and guys will be ready for the challenge."