Celeb sightings: Which stars visited Phoenix for the Super Bowl, WM Phoenix Open
With the hottest sports events in town on the same weekend comes the star power of the rich and famous.
Here's who was spotted in and around Phoenix for the Super Bowl, and events leading up to it, and the WM Phoenix Open in Scottsdale.
Paris takes Phoenix
Paris Hilton performed at the Walter Where?house in downtown Phoenix for the Uber One Super Bowl Party Friday night. In attendance was former Bachelor Arie Luyendyk Jr. and his wife Lauren, and Vanessa Hudgens with her new fiancé.
Machine Gun Kelly visits the Birds Nest
MGK headlined the sold-out Friday night show at the Birds Nest in Scottsdale to a packed crowd. In attendance was former MLB star Alex Rodriguez, better known as A. Rod.
MGK says he was shocked during his performance, but there was no medical crew in sight that treated him, and he finished his set.
Drake performs for star-studded crowd
Drake could have offered Super Bowl week concertgoers just a few songs, but the rapper-singer instead delivered a healthy dose of his hits.
The multi-Grammy winner had many jostling for position to watch him perform at "h.wood Homecoming" at the Scottsdale Hangar One on Friday night. As some concertgoers crowded the stage, others like Alex Rodriguez and Jaleel White chilled in the VIP area while stars such as Michael Strahan watched Drake's 45-minute performance from the second level of the luxury private jet complex.
Other star entertainers and athletes who attended Drake's show included Serena Williams, Cher, H.E.R., Lil Baby, Christina Aguilera, Meek Mill, Machine Gun Kelly, Tyga, Davante Adams, Odell Beckham Jr., Kyler Murray, Sauce Gardner and George Kittle.
Before Drake's appearance, attendees mingled for a few hours at the invite-only event. Once he arrived, many flocked toward the stage and pulled out their phones to capture his set.
"Tonight, they asked me to do three songs in like 20 minutes right? I could either do the 20 minutes or just run through all the old stuff," he told the audience, who urged him to play his older hits. "OK, you asked for it."
Drake went on to perform several jams including "Best I Ever Had," "Headlines," "Controlla" and "HYGR." He asked the crowd to recite the lyrics of 21 Savage's verses on "Rich Flex," a song from tandems collaborative album "Her Loss."
The rap star kept asked attendees, "Do you want more?" The majority of the crowd urged him to do so.
"If you're playing shy or rich as (expletive) or own some tech company or some football team, we don't give a (expletive) right now," he said. "We just need you to turn up if you know this song. I need your help."
As confetti fell, Drake performed "Knife Talk" featuring 21 Savage and Project Pat.
At the end, Drake paid homage to Lil Wayne before closing out his set by playing "I Will Always Love You," the Dolly Parton song that Whitney Houston made famous. He sang every word along with many in the crowd.
The "Homecoming" concert show was a part of a night filled with other concerts across the Phoenix area before the Kansas City Chiefs face off against the Philadelphia Eagles on Sunday.
Scottsdale bash with Shaq
Shaquille O'Neal held his carnival-style "Shaq's Funhouse" at Talking Stick Resort in Scottsdale with Snoop Dogg headlining the concert, and Travis Scott and Robin Thicke performed at the "Rolling Stone Live" Super Bowl party. Meek Mill hit the stage earlier Friday, performing a few songs including his popular "Dreams and Nightmares."
Gronk Beach was held at Talking Stick Saturday afternoon at the pool area and among the performers were Lil Jon and Diplo. 
More sightings
Cardi B was spotted at The W Scottsdale. She and her partner Offset are attending the Hall of Fame Party in Chandler Saturday night.
Megan Fox attended Drake's party with her boyfriend Machine Gun Kelly following his performance at the Birds Nest.
More star-studded parties
Country superstar headlined the West Fest Super Bowl at Westgate Entertainment District, hosted by BetMGM on Saturday. The party was just minutes from State Farm Stadium.
Over in Scottsdale, the party continued at Talking Stick Resort.
At the Michelob ULTRA and Netflix present a Full Swing Premiere & Super Bowl Party, Serena Williams and Brian Cox hosted the bash.
We caught up with Shaq and Canelo Alvarez on the red carpet and asked them about what they think about the city so far.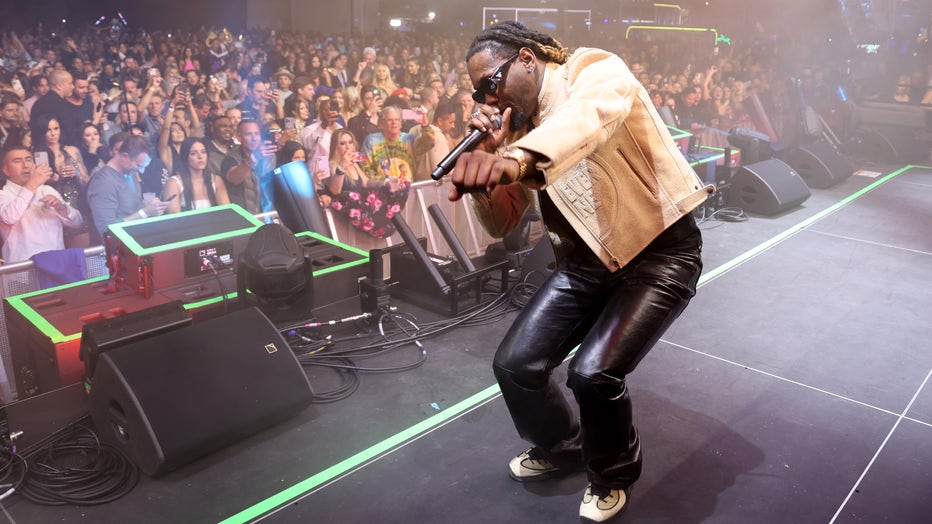 Offset performs at Tao X Maxim Big Game Party: An unKommon events Production at Southwest Jet Center on February 11, 2023 in Scottsdale, Arizona. (Photo by Jerritt Clark/Getty Images for unKommon events)
The Tao X Maxim Big Game Party was held at the Southwest Jet Center.
Sports Illustrated held an event at Talking Stick Resort.
Tune in to FOX 10 Phoenix for the latest news:
The Associated Press contributed to this report.