Charges dropped against suspect in Yosemite's Rim Fire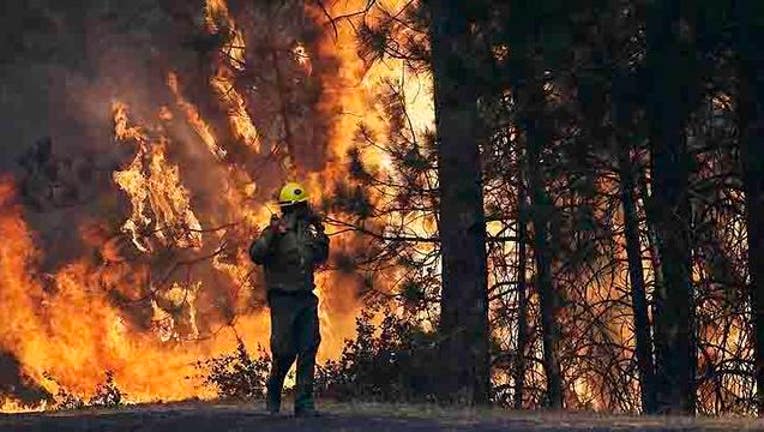 article
FRESNO, Calif. (AP) — Criminal charges were dropped against a bow hunter accused of starting one of California's largest wildfires that burned parts of Yosemite National Park, federal prosecutors said Friday.
The decision came after two key witnesses unexpectedly died within months of an indictment that was handed down last year against Matthew Emerald, prosecutors said.
The 33-year-old California man was accused of starting the 2013 blaze called the Rim Fire that burned for two months, scorching 400 square miles, destroying 11 homes and costing $125 million to fight.
Prosecutors said that without testimony from the two witnesses, they did not believe they could prove the allegations to jurors beyond a reasonable doubt. Previous statements made by the two witnesses can't be used in court, prosecutors said.
"I understand that the government's motion to dismiss will be frustrating to some," U.S. Attorney Benjamin Wagner said in a statement. "It is our obligation to the defendant and to the court to dismiss that case."
Emerald, a resident of Columbia, a town in the Sierra Nevada foothills, was accused of starting the blaze in August 2013 that ranks as California's third-largest wildfire and the largest in the recorded history of the Sierra Nevada.
Emerald had been bow hunting for deer when he was rescued near the site of the fire's origin by a California Department of Forestry and Fire Protection helicopter crew. Investigators had said that in several interviews, Emerald gave them inconsistent stories about how the fire started and once acknowledged starting a campfire that got out of control.
Other times, they said, Emerald described causing a rockslide that sparked the flames, and he also blamed the fire on illegal marijuana growers.
A grand jury handed down a four-count indictment nearly a year after the fire that included charges of lying to investigators and starting a forest fire.
Emerald's defense team had sought to suppress his statements, saying they were coerced. A message requesting comment from Emerald's attorney Janet Bateman was not immediately returned.
Prosecutors say the unexpected deaths of the witnesses left too little evidence to make a case to jurors.
One of the prosecution's key witnesses unexpectedly died in a workplace accident in February, He had talked with Emerald shortly after being rescued.
The second witness — the helicopter pilot — died in March of a heart attack, authorities said.
If convicted, Emerald could have spent five years in prison. He has been free since posting a $60,000 bond.