Charleston church victims' families forgive suspect in court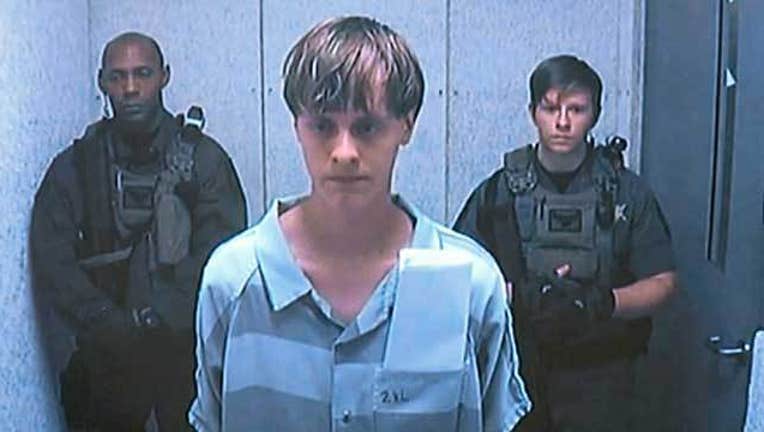 article
CHARLESTON, S.C. (AP) — They forgave him. They advised him to repent for his sins, and asked for God's mercy on his soul. One even told Dylann Storm Roof to repent and confess, and "you'll be OK."
Relatives of the nine people shot down during a Bible study session inside their historic black church confronted the 21-year-old suspect Friday during his initial hearing. They described their pain and anger, but also spoke of love.
"I forgive you, my family forgives you," said Anthony Thompson, whose relative Myra Thompson was killed. "We would like you to take this opportunity to repent. ... Do that and you'll be better off than you are right now."
Roof was ordered held until a bond is set on murder charges. He appeared by video from the county jail, looking somber in a striped jumpsuit and speaking only briefly in response to the judge's questions.
The victims included the Rev. Clementa Pinckney, a state senator who doubled as the church's lead pastor, and eight others who played multiple roles in their families and communities: ministers and coaches, teachers and a librarian, counselors and choir singers and the elderly sexton who made sure the historic Emanuel African Methodist Episcopal Church was kept clean.
A police affidavit released Friday accused Roof of shooting all nine multiple times, and making a "racially inflammatory statement" as he stood over an unnamed survivor.
The families are determined not to respond in kind, said Alana Simmons, who lost her grandfather, the Rev. Daniel Simmons.
"Although my grandfather and the other victims died at the hands of hate, this is proof — everyone's plea for your soul is proof they lived in love and their legacies will live in love, so hate won't win," she said. "And I just want to thank the court for making sure that hate doesn't win."
Felecia Sanders survived the Wednesday night attack by pretending to be dead, but lost her son Tywanza. She also spoke from Chief Magistrate James Gosnell's courtroom, where Roof's image appeared on a television screen. It is not unusual in South Carolina for the families of victims to be given a chance to address the court during a bond hearing.
"We welcomed you Wednesday night in our Bible study with open arms. You have killed some of the most beautifulest people that I know. Every fiber in my body hurts ... and I'll never be the same," Sanders told Roof.
"Tywanza was my hero," Sanders added, but then even she showed some kindness to the man accused of killing her son: "As we said in Bible Study, we enjoyed you but may God have mercy on you."
Roof bowed his head slightly. From the jail, he could hear them talking, but couldn't see them; the camera showed only the judge.
"Charleston is a very strong community. We have big hearts. We're a very loving community," said Gosnell, who urged people to find it in their hearts to help not only the nine victims, but "victims on the young man's side of the family" as well.
Roof's public defender released a statement from his family offering prayers and sympathy for the victims, and expressing "shock, grief and disbelief as to what happened that night."
"We have all been touched by the moving words from the victims' families offering God's forgiveness and love in the face of such horrible suffering," the statement said.
The comments in court seemed in keeping with a spirit evident on the streets of Charleston Friday, where people built a memorial and thousands attended a vigil to repudiate whatever a gunman would hope to accomplish by attacking one of the nation's most important African-American sanctuaries.
"A hateful person came to this community with some crazy idea he'd be able to divide, but all he did was unite us and make us love each other even more," Mayor Joseph P. Riley Jr. said as he described plans for the evening vigil at a sports arena.
A steady stream of people brought flowers and notes and shared somber thoughts at a growing memorial in front of the church, which President BarackObama called "a sacred place in the history of Charleston and in the history of America."
The Justice Department announced Friday that it's investigating whether it could be a hate crime or domestic terrorism. Agency spokeswoman Emily Pierce said the slayings were "undoubtedly designed to strike fear and terror into this community."
South Carolina Gov. Nikki Haley said the state will "absolutely" want the death penalty.
"This was an act of racial terrorism and must be treated as such," the Rev. Cornell William Brooks, president of the National Association for the Advancement of Colored People, said Friday in Charleston.
"This is a moment in which we say to them, the white nationalists movement, those purveyors of hate, we as Americans will not subscribe to that philosophy. We will not give up, we will not give in," Brooks said.
Roof had complained while getting drunk on vodka recently that "blacks were taking over the world" and that "someone needed to do something about it for the white race," according to Joey Meek, who tipped the FBI when he saw his friend on surveillance images.
Roof also told him he used birthday money from his parents to buy a .45 Glock pistol before the attack, Meek said. The affidavit said Roof's father and uncle also called authorities after seeing surveillance photos, and that the father said Roof owned a .45-caliber gun.
Roof was arrested across the state line and returned in shackles to a county jail where he was being held next to the cell of Michael Slager, the white former police officer charged with fatally shooting black motorist Walter Scott in neighboring North Charleston.
It was the third arrest for Roof, who was quizzed by police in February after workers at the Columbiana shopping mall said he appeared dressed entirely in black, asking strange questions about employee movements and closing times. He was charged then with possessing suboxone, a drug typically used to treat heroin addiction. A trespassing charge was added after he showed up again in April, prompting a three-year ban from the mall.
Spilling blood inside the "Mother Emanuel" church, founded in 1816, evoked painful memories of the racist violence that black churches have so often suffered, and the values their congregations have tried to uphold in response.
"For me, I'm a work in progress and I acknowledge that I'm very angry," said Bethane Middleton-Brown, who appeared in court on behalf of her sister, the Rev. DePayne Middleton Doctor. "We have no room for hate. We have to forgive. I pray God on your soul. And I also thank God I won't be around when your judgment day comes with him."
Pinckney, 41, was a married father of two and a Democrat who spent 19 years in the South Carolina legislature. The other victims were Cynthia Hurd, 54; Tywanza Sanders, 26; Myra Thompson, 59; Ethel Lance, 70; Susie Jackson, 87; and the reverends DePayne Middleton Doctor, 49; Sharonda Coleman-Singleton, 45; and Daniel Simmons Sr., 74.