CHP officers arrest Martinez woman for causing multi-car collision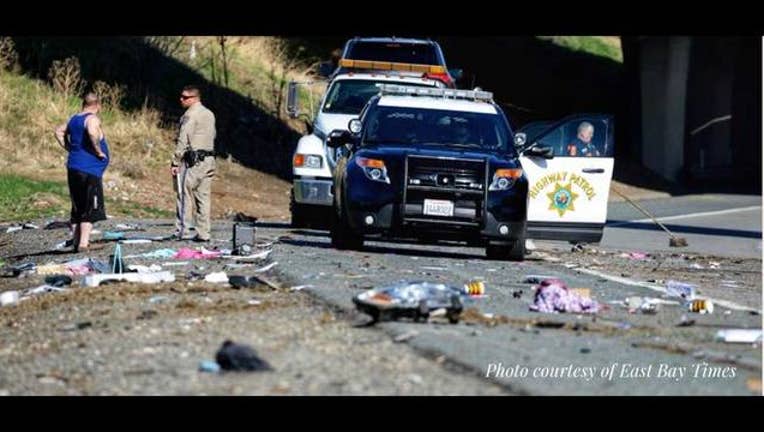 article
OAKLAND, Calif. (BCN) - California Highway Patrol officers arrested a Martinez woman after she allegedly caused a multi-vehicle collision Saturday morning in Contra Costa County. 
At 10:52 a.m., CHP officials received multiple calls reporting a speeding white Ford Explorer on northbound Interstate Highway 680 and state Highway 242. 
These were followed by more calls reporting a rollover collision involving the same vehicle in the same area, CHP officials said.
CHP officers arrived on the scene and began an investigation. They determined that the solo driver, a 35-year-old woman from Martinez, had allegedly been driving the Explorer from northbound Highway 680 to Highway 242 at speeds over 100 mph.
According to CHP officials, just before her vehicle reached state Highway 4, it veered left across Highway 242, went into the center median, overturned and rolled into oncoming southbound traffic. 
The vehicle collided head-on with other vehicles, causing a five-vehicle collision, CHP officials said.
The driver of the Explorer was taken to a hospital and treated for minor injuries. She was later arrested on suspicion of felony driving under the influence causing injuries and for being under the influence of marijuana and other drugs, CHP officials said.
CHP officials have not yet released her name.
Three people from other vehicles were also hospitalized with major injuries that were not considered life-threatening. One other person was also hospitalized with minor injuries, CHP officials said. 
The area of the collision on Highway 242 was shut down for about 80 minutes, CHP officials said.
The collision remains under investigation and anyone who witnessed it is asked to contact CHP Officer Mendoza at (925) 646-4980.